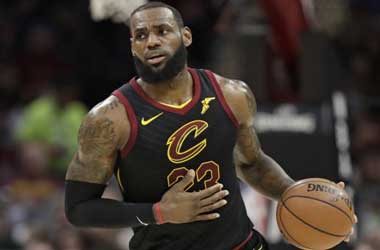 The Cleveland Cavaliers have made it to the last three Eastern Conference playoffs but were under enormous pressure in Game 7.
The Cavs narrowly qualified for the Eastern Conference semi-finals after beating the Indiana Pacers 105-101.
Prior to Game 7, the media did not hold back and threw questions at LeBron James asking him if he thought about the fact that this could be his final game for the Cavs.
James has not committed to re-signing with Cleveland and rumours continue to float around that he will be leaving the Cavs after this season.
James addressed those questions by saying all he thought about was winning Game 7 and continuing the Cavs quest for another NBA Championship. He put in an epic performance during Game 7 which made the difference and saw the Cavs go through.
King James was more candidate after Game 7 and admitted
You start thinking like, 'Is this it? Could this be it?' That's just human nature. Then, the other side of my brain is like, 'Let's make something happen. Let's go. This is what you're here for. You're here to make plays. You're the leader
He is without doubt the player that the Cavs look up to and he delivered yet again. James scored 45 points, had 9 rebounds and 7 assists in a performance that gave the Cavs a slight edge over the Pacers that made the difference in the end.
MLG Highlights
How Much Does James Have Left In The Tank
LeBron James is a big match player but his efforts against the Pacers took a lot out of him. The Cavs don't have a lot of time to recover as they prepare for Game 1 of the Eastern Conference semi-finals against the Toronto Raptors. Game 1 is scheduled to take place on 02 May and a day after that Game 3 takes place on 04 May.
James battled severe cramps in Game 7 and one wonders if he will recover sufficiently to play at his best on 02 May. The Cavs needs James to fire yet again and secure a 1-0 lead that will help ease the pressure. The question is whether James has enough left in the tank to keep going and putting in epic performances game after game.
Only time will reveal if King James can continue his spectacular performances in the play-offs. Cavs fans will be happy as they get to see their favourite player on court for another four games atleast!