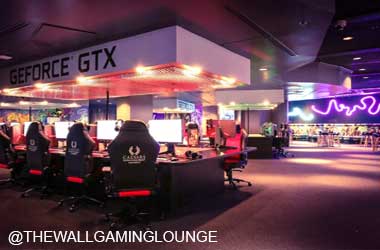 The global eSports market is growing in leaps and bounds and America has also seen a nice spike in its eSports market. Casino operators across Nevada are looking to cash in on the demand for eSports and have been quick to launch eSports operations.
The Rio in Las Vegas which is operated by Caesars Entertainment has now thrown its hat into the ring by launching a new eSports arena known as the "Wall Gaming Lounge". The Rio's Gaming Lounge will occupy around 24,000 square feet when it is done. The plan is to complete it in phases, with the first phase now already done. It currently features a cool gaming space for those who want to enjoy eSports with 30 Alienware gaming PCs. There are also several gaming consoles available so players who want to have a crack at the latest PS4 can have some fun.
The Wall Gaming Lounge is the Rio's first shot at an eSports gaming space and the casino will continue to add innovative gadgets and features as each stage of the development process gets completed. The eGaming lounge will have daily tournaments and special
challenges to give visitors a chance to win cash and something special prizes. The Wall Gaming Lounge will also have a long craft beer list along with the option for players to order drinks and food from their mobiles.
eSports Arenas Cropping Up All Over Las Vegas
This addition to the eSports gaming market in Las Vegas is a welcome one. Some of the other top casinos in Vegas such as the Luxor and the MGM have already opened their doors to the eSports industry. The Millennial eSports Arena located in downtown Las Vegas is currently the biggest eSports destination in the city and has over 15,000 square feet of hi-tech gaming space.
The Rio is known for hosting the World Series of Poker (WSOP) every year and welcomes thousands of poker pros from across the country as well as the rest of the world. Given that poker pros have a fascination for eSports, the new Wall Gaming Lounge is bound to see an influx of poker pros in the coming months.
In a statement, Christian Stuart, executive vice president of gaming and interactive entertainment for Caesars Entertainment, said
The Wall at the Rio is designed to be highly interactive and enables our guests to enter the space and feel immersed in a highly visual and dynamic gaming atmosphere. You can compete like an esports professional or spectate in a social, ultramodern atmosphere