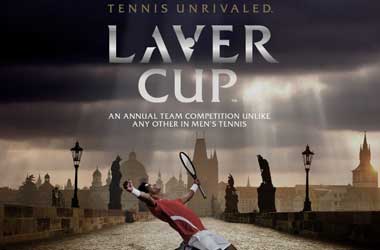 Tennis Australia, TEAM8 – Roger Federer's management company, a Brazilian businessman and a former Davis Cup player all teamed up to launch the very first Laver Cup in tribute to Australian Rod Laver – who is considered one of the greatest tennis players of all time. The organizers put together a unique format which consisted of Team World and Team Europe which each team having a total of 6 players.
Team World was captained by former great John McEnroe and Team Europe was captained by his old rival Bjorn Borg. The tournament was played at the O2 Arena in Prague and a total of 9 single matches and 3 doubles were scheduled with each match carrying a fixed amount of points.
Many fans thought Team Europe would coast to victory as their team consisted of 5 of the top players in the world featuring the likes of Roger Federer, Rafael Nadal and Marin Cilic.
Laver Cup
Team Europe did dominate a number of matches including a special doubles match which saw fierce rivals Nadal and Federer play together for the first time against Sam Querrey and Jack Sock. The two legends did not have an easy time but in the end won their first doubles encounter and got Team Europe 2 points.
Nick Kyrgios and Sam Querrey played well for Team World and kept them in the competition right until the final match between Kyrgios and Federer. Team World had 9 points and Team Europe had 12 points before the final encounter which would give the winner 3 points. Kyrgios put in a fine performance and pushed Federer but the Swiss great used his experience to win 4-6, 7-6 (6), 11-9 and help Team Europe secure their first Laver Cup.
Federer said after his win that Team Europe played fantastic tennis throughout the Laver Cup but it was so close that he was prepared to get ready for a final doubles match had Kyrgios won and helped Team World draw level. The Laver Cup was a tight contest till the very end and was a great start for the inaugural edition.
The organizers plan to conduct the second edition of the Laver Cup in 2018 and will host it in Chicago at the United Center. John McEnroe and Bjorn Borg will be retained as Team coaches for the next two editions of the tournament.