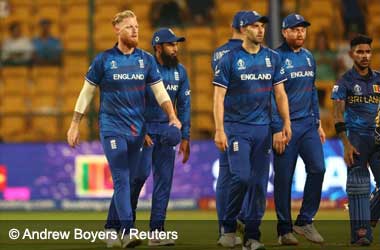 Summary:
England suffered another loss at the ODI World Cup after going down to Sri Lanka
The defending champions have lost 4 out of their 5 World Cup games so far
Former captain Michael Atherton believes this English team is past their prime
Defending champions England came as one of the top 3 betting favourites, including our pick for winning the 2023 ODI World Cup title. Led by Captain Jos Butler, the English cricket team had a number of white ball stars who were expected to help England be a dominant side in India.
England Slump To Another Embarrassing Defeat
England's performance at the World Cup so far has been nothing short of embarrassing as the defending champions who were underprepared before the tournament are not only losing their games but are being completely outplayed, outclassed and outperformed.
They took on Sri Lanka on Oct 26 and were looking to turn things around. However, they put in another abysmal performance after batting first and getting bundled out for just 156. A deflated England struggled in the field as Sri Lanka comfortably chased down the runs in just 25.4 overs to hand England their 4th loss in the tournament in 5 games.
England currently sit in 9th place out of the 10 teams at the World Cup. They can still technically qualify for the playoffs but a number of factors will have to come into play for this to happen. England will have to win all their games after this in order to make that happens and that seems highly unlikely given how poorly they have played.
In a statement, Jos Butler said
You get on the plane with high hopes and a belief we can challenge for the title so to sit here now after the three weeks which have been is a shock. It's a shock to everyone. I'll go back to the changing room and look at the players sat there and think, 'how have we got ourselves into this position with the talent and the skill that's in the room?' But it's the position we're in, it's the reality of what's happened over the last three weeks.
Atherton Believes England Must Get New Team
Former England captain Michael Atherton believes that this team is at the end of their cycle and the cricket selectors will need to put a new team together after this World Cup debacle.
Atherton could be right as a number of their key players are at the end of their ODI careers as Joe Root and Ben Stokes are 32, Jos Butler is 33, Jonny Bairstow is 34 and Dawid Malan is 36.