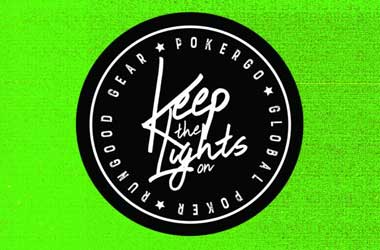 Prominent poker brands have joined forces in launching a new initiative to help freelance poker media cope with the impact of the ongoing coronavirus pandemic.
Keep The Lights On is a collaborative effort between poker entertainment company Poker Central, online poker room Global Poker, poker clothing company RunGoodGear (sponsor of the popular Run Good Poker Series), as well as others in the industry who want to lend a hand to freelance members of the poker media greatly affected by the crisis.
Funds raised will help cover the utility bills of poker media workers who are currently facing financial difficulties as a result of the massive cancellation of live poker events and the closures of casinos around the world.
Many of them have lost their jobs with no source of income, and current circumstances could mean they might remain unemployed for the foreseeable future. Affected workers are encouraged to submit their info to the charity drive by May 11.
Poker Central
Donation Pledges
The charity initiative will primarily revolve around donation pledges, with RunGoodGear, PokerGO and Global Poker each putting forth a "Champion" – Jamie Kerstetter, Jeff Platt, and Brian "The Golden Blazer" Frenzal — who will compete in 10 tournaments a week (scheduled to take place on Mondays, Wednesdays, and Fridays), for three weeks. The games will also be livestreamed.
Funds will be raised through donation pledges for each tournament cash earned by each participant. So for example, if you're pledging $5 to Platt, and he cashes 8 times throughout, a total of $40 will be added to the fund.
All Stars PRO-AM Seat Bonus
Apart from this, the player who finishes with the largest bankroll at the end of the three-week competition will secure a seat to the All-Stars PRO-AM Live Event which will be held at PokerGO Studios in December. Those putting pledges of at least $5 to the eventual winner will also earn a ticket to a private qualifier for the PRO-AM event.
Donation pledges will be accepted until May 3.
If you can't be available for the livestreamed tournaments, you still have other options to offer your support. Do check out the Poker Central shop and grab your own Keep The Lights On hoodie for just $50. Proceeds will go directly to the charity fund.
You can make donations through the Keep The Lights on page found on PledgeIt. As of this writing, $24,492 has been raised. For the latest updates and to learn how funds are distributed, visit the RunGoodGear website.