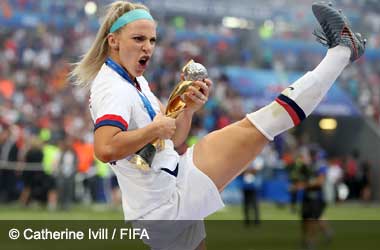 Summary:
Julie Ertz has decided to retire from professional football at 31
Ertz helped the United States win two World Cup's finishes with 122 appearances for her country
She said she wants to spend more time with her young family and not travel so much
American soccer fans were not entirely surprised to learn that Julie Ertz decided to call time on her professional career and retire at the age of 31. Ertz indicated after the United States exited the 2023 FIFA Women's World Cup after losing to Sweden that she would not play for her country again.
Julie Ertz Brings To End An Outstanding Career
Julie Ertz experienced tremendous success in her career where she represented the United States and played in 122 games. She was part of the 2015 and 2019 FIFA World Cup winning side and has won some amazing awards over the year.
Ertz won the U.S. Soccer Female Player of the Year in 2017 and 2019 and also the U.S. Soccer Young Female Player of the Year. She also represented the United States in two Olympic Games.
She took a break from football after the 2021 Olympics as she was injured and then later decided to start a family and gave birth to her son. After 18 months, Ertz made an amazing comeback and fought her way back into the national team to represent the US at the 2023 FIFA Women's World Cup.
Ertz who played for many years for the Chicago Red Stars in the National Women's Soccer League switched over to Angel City FC in 2023. Ertz said that she was very emotional in making the decision to retire but remained very grateful to play alongside some of the best players in the world.
Ertz Decides To Retire To Spend More Time With Family
Ertz decided that it was time to hang up the boots and spend more time with her family as traveling and being on the road was too hard on her young family.
In a statement, Ertz said
As I have gotten older and become a mom, it's clear the sacrifices of time away from my family no longer seem doable with so many factors at play. These girls gave me a gift I could never repay and l got to live out a dream I wish for everyone: falling in love with a sport you have played your whole life and getting to share it with your son
THANK YOU! pic.twitter.com/GapGnMfSa5

— Julie Ertz (@julieertz) August 31, 2023