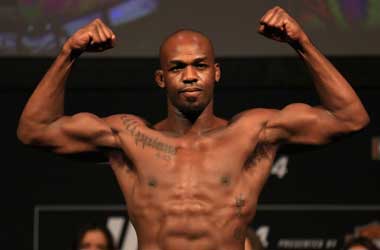 UFC superstar and former lightweight champion Jonathan Jones completed his hearing with the California State Athletic Commission (CSAC) on 27th Feb and received a $205000 fine along with having his license suspended.
Jones who is considered by many to be the Greatest Of All Time (GOAT) regained his lightweight championship after defeating Daniel Cormier at UFC 214 in Anaheim, California in July 2017. However, Jones failed a United States Anti-Doping Agency (USADA) drug test which found Turinabol – an anabolic steroid in his urine sample. As a result, Jones was suspended and was stripped of his belt by the UFC and the fight with Cormier was ruled a no-contest.
CSAC Asks Jones To Take Responsibility
Jones has maintained that he did not take steroids deliberately and claims that it could have been a tainted supplement. This is not the first time that Jones has been pulled up by USADA for steroids. The last time Jones claimed that it was due to an over the counter pill (Cialis) which was tainted and that caused him to fail his drug test.
CSAC commissioner Martha Shen-Urquidez came down hard on Jones and said the commission wasn't concerned as to whether he used steroids intentionally or not. The end result was that steroids were found in his system and for that he had to take full responsibility. CSAC decided to fine Jones 40 percent of his winnings and suspend his license till USADA finishes their hearing and makes a decision on his MMA career. Once that decision is made, CSAC will then decide when it will reinstate his license.
Jones Continues To Swear Innocence
Jones testified before the commission that he was aware of the perception surrounding his career. Jones would undoubtedly be the GOAT but his life outside the Octagon has been filled with controversy – which has tarnished his image and MMA record.
In a statement, Jones said:
"Honestly, I put it on everything that is dear to me, everything that is dear to my soul, that I did not do steroids. In this situation, I swear on my heavenly father that I'm not wrong. When you say, 'When you're wrong, you're wrong,' I would 100 percent agree. I've always handled my punishments head on. But in this situation, I'm not wrong. I swear on anything."
There is no indication as of now as to when USADA will have its final hearing. There are rumours that it will take place in March and that Jones could get a 12 month suspension – retroactive from July 2017 – which could mean Jones is back in the Octagon before the end of the year.