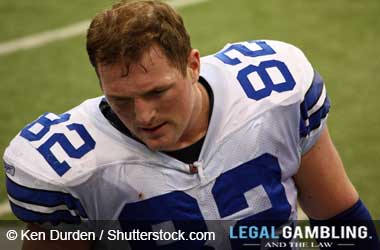 When is it the right time for a professional sportsman to call time on their career? That's one of the hardest questions that players and athletes have to answer. Most professional players agree that they should walk away when they feel they have no more left to give to the game.
Dallas Cowboys veteran Jason Witten made it clear to the media and his players that he intended to compete in the coming NFL season. Witten is one of those few players who has spent his entire career with the Cowboys and was confident he could play his 16th season with the Cowboys.
Just last month, Witten reiterated the fact that he has no plans to retire and wanted to play till he was 40. However, on Thursday Witten surprised a lot of people when he announced that he would not play the coming season with the Cowboys and would retire from the game.
Witten spent an hour on Thursday facing the Media and answering questions about his retirement but he did not bring up the fact that he was joining the ESPN commentary team. However, ESPN released a statement which confirmed that Witten would be joining their 'Monday Night Football' team.
In a statement, Connor Schell, ESPN executive vice president of content said
We want to congratulate Jason Witten on a Hall-of-Fame caliber career with the Dallas Cowboys and we are thrilled to welcome him to ESPN and Monday Night Football. Jason's passion, his insight, and his ability to clearly communicate his knowledge of the game thoroughly impressed us. He has all the potential to be an exceptional analyst and we can't wait to get started
Dallas Cowboys
Witten Bids Emotional Farewell
Witten said that he did not think of retirement and was keen on playing with the Cowboys for another season. He has had a phenomenal career in the NFL and has the 4th most catches in NFL history. He will go down in the Dallas Cowboys record books as one of the best to represent the franchise holding multiple records such as the most receptions (1,152), most consecutive games played (235) most receiving yards (12, 448), most games played (239) and most catches in a game (18).
Cowboy's owner Jerry Jones and coach Jason Garrett were present during an emotional farewell speech and wished Witten the best in his future endeavours.