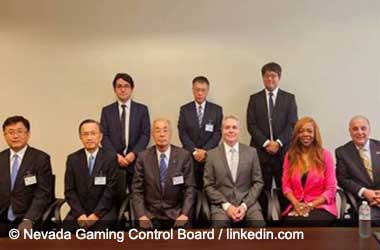 Summary:
Nevada Gaming Control Board shares best practices with Japan's gambling regulator
The Japanese delegation was led by JCRC chair Michio Kitamura
Japan's first casino developed by the MGM-Orix consortium, will open in 2030
As Japan continues to make significant progress towards launching a regulated gambling market, representatives from the country's gambling authority, the Japan Casino Regulatory Commission (JCRC), recently met with their counterparts from the Nevada Gaming Control Board to discuss ways to effectively regulate gambling in their respective jurisdictions.
Leading the Japanese delegation were JCRC Chairman Michio Kitamura and Commissioner Hirofumi Kitamura.
JCRC Looks to Adopt Best Regulatory Practices
Formed in January 2020, the JCRC will have oversight of Japan's developing casino industry. The regulatory body acknowledges that collaboration with gambling authorities in other countries is crucial for effective and efficient regulation of casino operations.
The agency continues to examine the regulatory approach of its counterparts particularly in the US which currently implements a robust regulatory framework for licensed gaming venues.
The meeting held on August 28 between the JCRC and the Nevada Gaming Control Board enabled both agencies to share ideas and come up with essential strategies for better governance of their respective gambling markets.
According to its LinkedIn page, the Nevada Gaming Control Board, which was set up in 1955, has built a reputation for establishing a standard for gaming regulation across the globe. It promotes the philosophy that when gaming is properly regulated, it can thrive and make important contributions to the economy.
The JCRC, which is still in its infancy, is looking to adopt some of the regulatory practices of its Nevada counterpart when Japan officially launches its first casino which will be located in Osaka.
MGM Submits Revised Osaka IR Development Plan to National Authorities
Japan's first casino is being spearheaded by the MGM-Orix consortium and the local government of Osaka, which are behind the approved integrated resort (IR) project in the city, has submitted a revised IR development plan to the national government. The plan will be subject to review and approval by the Japan Tourism Agency and other relevant authorities tasked with coordinating the IR approval process.
Additionally, the parties also submitted a request for approval of the Osaka IR's implementation plan. The giant resort complex, which is now worth JPY1.27 trillion, will be built on the man-made Yumeshima Island in Osaka Bay. It was initially slated to open in 2029 but its launch has now been delayed to 2030.