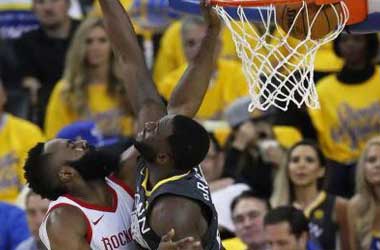 The top players in any sport are the ones who succeed in playing their best when the chips are down and the pressure is up. The Houston Rockets went into Game 4 against the Golden State Warriors knowing that it could be a series decider as the Warriors had a 2-1 lead going into Game 4.
The Rockets were subdued in Game 3 and that was mainly because their star player James Harden was countered very well by the Warriors defense. Harden came back strong in Game 4 and scored 30 crucial points in a low scoring game to make the difference and help the Rockets win 95-92.
Harden was well supported by Chris Paul who scored 27 points along with 4 assists and 2 rebounds. The Warriors were playing on home turn were they have been unbeaten for the last 16 postseason games and had phenomenal crowd support. That wasn't enough to stop Harden from scoring crucial points when it mattered and help get his team over the line.
In a statement, Mike D'Antoni, head coach for the Rockets said
I thought this is the highest level we've ever played defensively, without a doubt because we're talking about the best offensive team ever
MLG Highlights
Warriors Will Come Out Fighting In Game 5
Harden put down this win in Game 4 to a team effort and wants a similar performance in Game 5 which will take place on Thursday on the Rocket's turf. The Rockets will have the home advantage but they will also know that the Warriors will come hard as they were not
very happy losing Game 4.
The Warriors had a good game but missed out on key moments that made the difference in the end. Their start players Stephen Curry scored 28 points and Kevin Durant scored 27 points but it wasn't enough in the end. Curry tried for a 3 pointer in the final moments of Game 4 but missed.
The Warriors need to come up with a plan to counter James Harden and Chris Paul while Curry and Durant need to make sure they don't get shutdown by the Rockets defense. Warriors coach Steve Kerr accepted defeat in Game 4 saying that the Rockets are a great but also admitted that his team will look back on the film and realize that there were key moments that they let slip which eventually cost them Game 4.