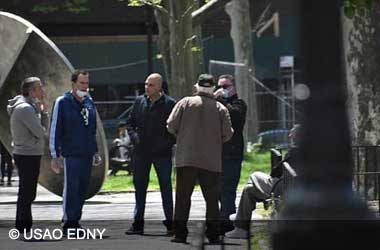 Summary
Five people were arrested in New York and Florida for operating an illegal gambling business
One of the suspects is alleged to have direct links with the Lucchese crime family
Authorities continue to crack down on Mafia-linked organized crime activities in New York
The US Department of Justice has announced the filing of charges against five individuals accused of being involved in an illegal gambling business with alleged links to the Lucchese crime family, an Italian-American Mafia crime family engaged in organized crime activities in New York City.
Lucchese Soldier Falls
Federal authorities arrested four of the five suspects at their respective residences in New York, while the other was apprehended in West Palm Beach, Florida.
The Justice Department said one of the defendants, Anthony Villani (pictured middle), 57, is a Lucchese soldier who was previously arrested for gambling-related offenses. He is charged with racketeering concerning his involvement in multiple criminal schemes, such as illegal gambling, money laundering, and attempted extortion.
Dennis Filizzola (58), Louis Tucci, Jr. (59), James Coumoutsos (59) and Michael Praino (44) are also facing similar charges.
Central to the investigation is an illicit gambling enterprise known as "Rhino Sports" allegedly operated by Villani. The fraudulent online platform allegedly collected illegal sports bets from between 400 and 1,300 bettors per week. Majority of the customers were from New York City and the metropolitan area. Rhino Sports had allegedly been in operation for at least 15 years under the protection of the Lucchese family and had generated millions in profits.
According to the Justice Department, the site ran using offshore servers located in Costa Rica and the payment and collection of winnings were facilitated through dozens of local bookmakers. Authorities have described Rhino Sports' operations as a "large-scale" illegal scheme, and Villani, being the leader, hugely benefited from the business, raking in over $1 million each year.
Federal agents had already raided his home back in 2020 and recovered over $400,000 in cash, in addition to gambling ledgers and brass knuckles.
Mafia Crime Families Still Operating in New York
US Attorney for the Eastern District of New York Breon Peace said the latest arrests show that Mafia crime families are continuing to engage in illegal gambling operations and fraudulent schemes across New York, delivering massive profits to the culprits. Atty. Peace said they remain committed to ridding the city of these organized crime syndicates.
Authorities have been conducting raids and arrest operations in recent months to crack down on Mafia-linked crime. In August, nine people were also held on illegal gambling-related charges.