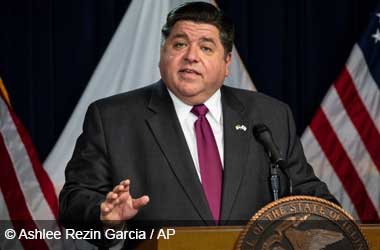 Illinois Governor J.B. Pritzker has decided to roll back his prior decision, made roughly two months ago, to rescind the in-person registration requirement for online sports betting accounts in an effort to shore up economic prospects amidst the ongoing COVID-19 pandemic. Pritzker has chosen not to extend the period for remote registration.
On 24 July, Pritzker issued Executive Order (EO) 48, which extended a number of his previous orders. EO 41 which removed the in-person registration requirement for sports bets, was excluded from the renewed orders.
The decision was made days ahead of what was generally expected to be a bounce-back period for the state's sports betting industry.
Major League Baseball (MLB) is expected to resume their season soon, the National Basketball Association (NBA) as well as the National Hockey League (NHL) are both scheduled to start their playoffs, and online sports betting behemoths FanDuel and DraftKings are in the midst of final preparations before going live in Illinois.
A number of locals immediately expressed their disapproval of Pritzker's decision. In an outpouring of support for remote registrations, hundreds of Illinois residents gave their take on Pritzker's decision on social media, with almost unanimous disapproval.
To preempt the expected fallout from the return of in-person registration, BetRivers and DraftKings began offering bonuses to punters who signed up before the remote registration period ended.
IGB Cuts Down on Sports Available for Bets
Adding to the worries of Illinois operators is the Illinois Gaming Board's (IGB) latest decision to pull back some sports from the betting market. According to BetRivers, they were barred by the IGB from offering any bets on the following events: Korean baseball, PGA Tour events, lower-tier soccer leagues and NASCAR.
IGB does not provide any public data on what sports can be bet on. Rather, they issue specific guidelines to operators. Industry observers believe it is odd that the IGB singled out certain sporting events for exclusion, as well as the grouping together of niche events such as Korean baseball with mass appeal sports such as NASCAR and the PGA Tour events.
RSI to Benefit from Pritzker's Decision
Industry commentators noted that Pritzker's decision-making process was opaque, but clearly benefits Rush Street Interactive (RSI), a local firm that owns and operates the Rivers Casino- Des Plaines as well as the mobile sports betting app BetRivers, currently the only available digital sports betting option for local punters.
The renewed requirement for in-person registration is expected to give an 18-month headstart, in addition to the 3-month application period, for RSI to gain a foothold in the Illinois market.