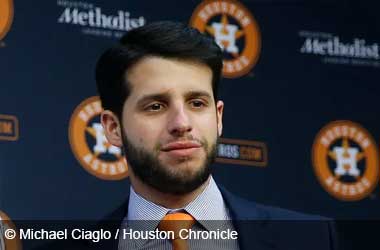 Major League Baseball commissioner Rob Manfred said he is deeply concerned over the sexism accusations and media controversy surrounding the Houston Astros.
This is not the ideal start to the MLB's World Series and the commissioner isn't very happy.
There are now questions being raised about the league's misogyny and intimidation tactics when facing the media.
The controversy emerged when the now former Brandon Taubman (pictured), assistant GM of the Houston Astros had a standoff with female reporters when the Astros were celebrating their win against the New York Yankees in the American League Championship Series (ALCS).
KHOU 11
Taubman Remarks On Osuna Causes Backlash
Brandon Taubman ended up in hot water after confronting and intimidating three female reporters during the team's celebration of their win against the New York Yankees in the American League Championship Series (ALCS). He made a comment stating that the Astros were happy to have Roberto Osuna back.
The remark is controversial because the MLB had originally suspended Osuna, the current closer of the Astros, for 75 games due to his domestic violence arrest in 2018. Osuna used to play for the Toronto Blue Jays but got traded to the Astros once the Blue Jays decided to let go of him.
It came across to the reporters and the general public that the Astros and Taubman were not taking the domestic violence claims seriously and condoning Osuna's behavior.
The Astros tried to put out the fire as owner Jim Crane and Taubman released statements the following day regarding the fiasco. Taubman apologised to anyone who felt offended by his actions and said he was embarrassed by using inappropriate language but has since been fired.
MLB Launches Investigation
The story first came to light when reporter Stephanie Apstein of Sports Illustrated went public. However, the Astros' called the story a fabrication and claimed that it was misleading going on to attack the credibility of Apstein.
During the Astros' ALCS celebration, assistant GM Brandon Taubman yelled, half a dozen times, to three female reporters, "Thank God we got Osuna! I'm so f——— glad we got Osuna!" On a systemic problem, in Houston and across the league: https://t.co/8zyVwG2Lpo

— Stephanie Apstein (@stephapstein) 22 October 2019
Once other outlets like Yahoo Sports and the Houston Chronicle confirmed that the incident did take place, the team quickly backpedaled and released a statement regarding the incident but still refused to retract their original attack on Apstein.
Astros' General Manager Jeff Luhnow made matters worse by claiming on the Astros' radio station that Taubman's intent behind his comments was unknown. He added that there are different takes to the story coming from both the MLB and the Astros when compared to how the media interpreted the event.
Commissioner Manfred wants to have a face-to-face conversation with the team following a pending investigation regarding the incident.