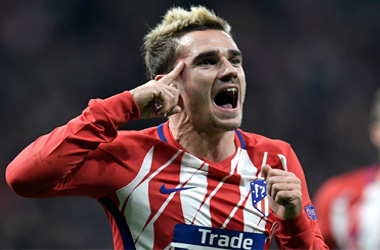 Atletico Madrid and France forward Antoine Griezmann is one of the most highly-rated players in his position in the world. His performances are reported to have attracted the attention of league leaders Barcelona.
The Catalan giants are the favourites to sign the striker this summer. However, with speculation over his future at fever pitch, Griezmann has stated he wants his future resolved before the World Cup.
Peace of mind
In an interview with L'Equipe, Griezmann said: "I want to travel to Russia without this concern,"
"It's not about knowing where I'll play, but about having the peace of mind if I'm still in one place or another.
"It may be boring, but I have told my sister that, whether I stay or not, this will have to be resolved beforehand. What bothers me the most is that everyone asks me about this issue."
Set to star for France at the World Cup
Griezmann is expected to start up front for France at World Cup 2018 after starring at Euro 2016 for Les Bleus on home soil. The competition was the striker's breakthrough on the international scene. In fact, his performance at the tournament saw the striker finish third in the 2016 Ballon d'Or behind perennial contenders Cristiano Ronaldo and Lionel Messi.
France boss Didier Deschamps has a plethora of attacking players available to him. However, Griezmann is likely to be the star turn for the French national team alongside the likes of Kylian Mbappe and Olivier Giroud.
Griezmann will be regarded as a contender to win the Golden Boot at the World Cup, even if he does start from a wide position for Deschamps team in Russia. The forward has proven in the past just how effective he can be in any forward position at both Atletico and Real Sociedad before that.
A good performance in Russia would only likely add to Griezmann's price tag. That means that any prospective buyer will be keen to tie up a deal to sign the striker before the big event so that Atletico would not push up their asking price.
Should be winning the big trophies
Griezmann has been outstanding for Atletico Madrid in recent years, especially in front of goal, producing highly prolific campaigns. The forward is unlikely to win the big trophies with Los Rojiblancos, despite the club from Madrid overachieving under Diego Simeone.
No doubt, Griezmann deserves to win the big trophies and is a player capable helping a team achieve those aims. Barcelona is a club in a position to give Griezmann the chance of winning the likes of La Liga and the Champions League.
At 27, Griezmann is now at the peak of his powers as a forward. It looks like the former Real Sociedad star will not want to waste any more time in being the best he can be and achieving everything he can in football. Sadly, for Atletico Madrid, it looks unlikely that he can fulfil his potential with the club from the capital.
Where will Antoine Griezmann be plying his trade next season?