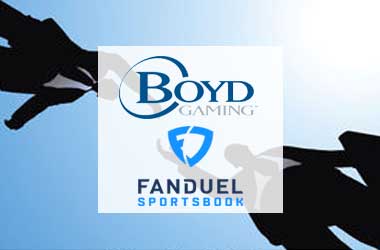 Four sportsbooks between the states of Indiana and Iowa are set to be launched just in time for the new 2019 NFL season which starts in early September. The launch is part of a collaboration between Boyd Gaming Corp and FanDuel.
FanDuel is based out of New York and one of the largest daily fantasy sports providers in the United States. Meanwhile, Boyd Gaming Corporation is an emerging hospitality and gaming group with 29 properties in ten states with its headquarters situated in Paradise, Nevada.
The partnership will see FanDuel's sports betting operations hosted in Boyd properties in the two Midwestern territories, over an 11-day rollout starting late August to early September. FanDuel and Boyd are slated to introduce their sportsbooks on Aug. 29 at the hotel group's Diamond Jo Casino in Northwood, Iowa, to be followed by Dubuque, Iowa's Diamond Jo Casino six days later.
Boyd's Blue Chip resort in Northwest Indiana, Michigan City will follow suit on September 5, with the final launch before the NFL kick-off at Belterra resort in Florence, Indiana on September 9.
The partnership in Iowa and Indiana was initiated following the two companies' successful sports betting operations in Philadelphia. In March, FanDuel began offering sportsbook services at Boyd's Valley Forge Casino near Philadelphia.
Indiana Follows Iowa In Breaking Ground On Sports Betting
Indiana is set to launch legal sports betting in the state from September 1 and will become the 12th state in America to allow sports betting. It follows right on the heels of its Midwestern neighbour Iowa who officially launched their first sportsbooks last week.
KMTV 3 News Now
Boyd Gaming CEO Keith Smith has declined to discuss exact earnings when it comes to sportsbooks operations, but the executive admits sports betting has already brought in incremental foot traffic to their casinos, bolstering profits from other forms of gambling, as well as recreational non-gaming activities.
Smith is optimistic that with the launch of their sportsbooks before the start of the 2019 NFL season, they will be able to generate plenty of traction. He also stated that the company remained optimistic that they would either equal or maybe even exceed their Mississippi and Pennsylvania sports betting operations with the Iowa and Indiana operations.
Boyd and FanDuel are bringing in local legends to launch their sportsbooks in Iowa and Indiana. Some of the their special guest include former Minnesota Vikings Hall of Fame defensive lineman John Randle and former Green Bay Packers wide receiver Antonio Freeman.