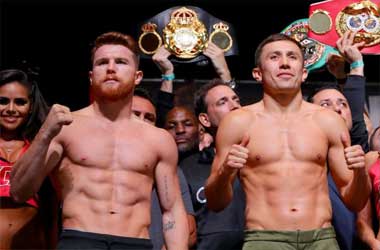 Boxing fans finally got to see Saul 'Canelo' Alvarez step into the ring with Gennady Gennadyevich Golovkin (GGG) on September 16, 2017. This fight was what boxing fans all over the world wanted and surprisingly the fight went the distance and the judges scored it even – declaring it a draw.
The two camps decided agreed to do Canelo vs. GGG 2 in Las Vegas, Nevada and both fighters agreed to fight on May 5 at the T-Mobile Arena. Canelo and GGG are currently in camp preparing for the fight but that could all change and the fight could be called off.
Canelo Tests Positive For Banned Substance
This is because WADA has announced that one of Canelo's samples has returned positive for a banned substance known as Clenbuterol. WADA has informed Canelo's camp that one of his voluntary test samples had trace levels of the steroid that is used by athletes to build lean muscle mass, reduce fat levels and boost their cardio.
Golden Boy Promotions which is the agency that promotes Canelo released a statement and confirmed that the traces of Clenbuterol found in Canelo's sample is in accordance with meat contamination in Mexico and believe this is the reason why their fighter' sample was showed positive for Clenbuterol.
There have been many athletes from Mexico who have tested positive for Clenbuterol due to meat contamination. Canelo has denied taking performance enhancing substances and will now move his camp from Mexico to the United States.
ESPN
Canelo Vows To Clear His Name
There are reports that the mega fight between Canelo vs. GGG 2 on May 5 could either be postponed or cancelled due to Canelo testing positive. However both Canelo and his promoter remain positive that the fight will take place as per schedule and GGG's camp is yet
to release a statement.
Golden Boy Promotions has released a statement saying that Canelo will submit to all mandatory tests and additional tests required by WADA leading up to the fight and even after the fight.
In a statement, Canelo said
I am an athlete who respects the sport and this surprises me and bothers me because it had never happened to me. I will submit to all the tests that require me to clarify this embarrassing situation and I trust that at the end the truth will prevail