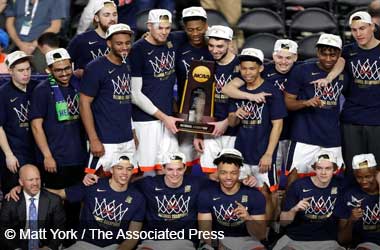 March Madness has finally come to an end and the team that came out on tops was the Virginia Cavaliers.
They had to play phenomenally well against Texas Tech to pull off a 85-77 victory in overtime and in doing so won their first ever NCAA Championship.
The 2019 NCAA had some great games during fast paced tournament which was spread across three weekends.
Fans were excited to see the Cavaliers take on Texas Tech in the finals and were hoping it wouldn't turn out to be a drab match as both teams have a strong defensive unit.
Fans were not disappointed as it was a closely contested match as both teams gave it all they had. The first half finished with the Cavaliers in the lead (32-29) but Texas came out firing in the second half to score (39-36) and tie the scores at 68-68 forcing it into extra time. The Cavaliers held their nerve during extra time and dominated Texas finishing (17-9) to get their hands on their first NCAA Championship.
WTHR
DeAndre Hunter delivered when it mattered and Kyle Guy who had an epic game in the semi-finals once again came to the party to see the Cavaliers home. Hunter finished with 27 points, 1 assist and 7 rebounds while Guy finished with 24 points and 3 rebounds.
Texas came so close during regular play but could not hold it together during overtime. They needed one of their players to stand up and have an outstanding game but it wasn't their night!
Virginia Cavaliers Favourites For 2020
This was a remarkable run for the Cavaliers given the fact that they were embarrassed and eliminated in the first round during 2018. They bounced back in 2019 and showed that they have the talent and temperament to go all the way.
The 2019 NCAA tournament just finished but bookmakers are wasting no time in getting their odds up for the 2020 NCAA Tournament. Virginia Tech – the defending champions have been ranked as the favourite by BetOnline and they have odds of 5-1 while the GetBets has decided to rank both Virginia Tech and Kentucky Wildcats as the number one teams with 7-1 odds.
Some of the other NCAA teams that have good odds are Duke 8-1, Gonzaga 10-1 and Michigan State 12-1