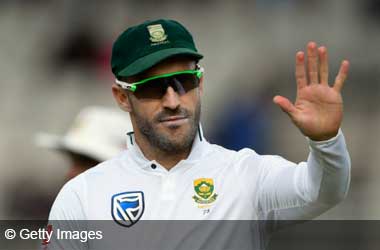 Faf du Plessis, the former captain of South Africa has announced his retirement from Test Cricket effective immediately.
It seems that Faf du Plessis has been around for ages but the former skipper has only played 69 matches for his country and led the side in 36 tests.
South African cricket has suffered in recent years due to tensions within Cricket South Africa (CSA), the retirement of senior players and some weak performances by the test team in the last couple of years.
When the Proteas lost a home series to England in 2020, Faf du Plessis decided to resign as captain but continued to be a part of the test team.
He was keen on being a part of the home series against Australia in 2021 but Cricket Australia decided to cancel their tour at the eleventh hour due to COVID-19 concerns. With no test cricket in the near future, the 36 year old du Plessis believes that this is the right time for him to walk away and for South Africa to build a test team with new faces.
Newzroom Afrika
du Plessis's record in test cricket isn't outstanding but his leadership and experience will be missed dearly. du Plessis finished with 18 wins and 15 losses as test captain, winning 17 of those tests in the first 27 matches that he captained. As a batsman, he scored just over 4,000 runs with an average of 40. He hit 10 centuries and finished with 21 half centuries.
du Plessis To Focus On T20 Cricket
Faf du Plessis has made it clear that he is only retiring from test cricket but will continue to play the shorter formats of the game. du Plessis says that while he will play ODI cricket, his focus is going to be the two ICC T20 World Cups that are scheduled to take place in 2021 and 2022.
du Plessis has done well for himself in T20 cricket in both international and domestic cricket. He said that his focus going forward will be to become the best player he can possibly be in the shorter format of the game. He has proven to be a valuable member in the IPL playing for the Chennai Super Kings.
CSA has accepted his retirement and said they were said to see du Plessis retire from test cricket but were happy to see that he will still continue to be available for ODI and T20 selection.