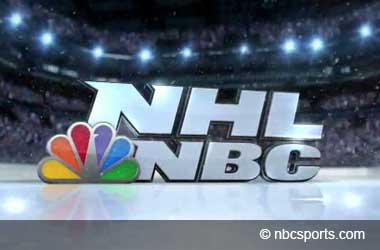 NHL sports lovers often complain that they don't get enough coverage and build up to NHL games when compared to the NFL or NBA. Things are about to change for the better as NBC Sports has released its NHL regular-season schedule that includes a record-setting 109 games and more diversity than the past in team selection.
During the first week of the pro hockey league's season the Vegas Golden Knights will be featured in two games. NBC will also air three Nashville Predators games during the season's first month. The following teams will in fact play on NBC prior to the Pittsburg Penguins: Arizona Coyotes, Calgary Flames, Colorado Avalanche, Tampa Bay Lightning, and Winnipeg Jets.
The majority of NBC's schedule diversity will involve the Wednesday Night Hockey format replacing last season's Wednesday Night Rivalry. The Capitals will play the most mid-week games at eight. Wednesday Night Hockey will include 17 double-headers. Teams that will play 2+ games on that night include Vegas, Colorado, Edmonton, Winnipeg, Nashville, Toronto and Tampa Bay.
NBC will also announce the NHL's All-Star Game played on Jan. 26 in San Jose will be aired on a broadcast network during prime time. This is the first time since 1997 that has happened.
NBC will add a roaming studio and best talent to several of the doubleheader locations to make the broadcasts more exciting.
Popular Teams Get More Coverage
The Chicago Blackhawks will get 19 games on NBC. Meanwhile, the defending champions Washington Capitals will play 18 games on NBC Sports. The Capitals' first game will take place on Oct. 3 versus the Boston Bruins and will include the banner-raising ceremony for the Stanley Cup winners. A week later on Oct. 10 the Caps will face the Vegas Golden Knights in a rematch of the Stanley Cup Final.
In the past the NHL has taken heat for not celebrating the hockey league's stars enough. NBC's lineup for the 2018-19 season will feature those superstars more. That includes the Oct. 24 matchup between the Toronto Maple Leafs and Winnipeg Jets. Both teams have lots of star power.
In a statement, Sam Flood, executive producer and president of NBC and NBC Sports said
We need to embrace and celebrate those teams more than we ever have before. It doesn't take away from those great Pittsburgh-Philadelphia games and Bruins-Canadiens games. We will keep doing those, but we have to lean into some different matchups
Flood also said one goal of the network's new strategy is to show the league's newer markets. For example, over 60% of all Wednesday Night Hockey match-ups will now include a Western Conference team.