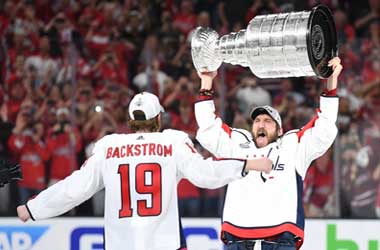 The Washington Capitals knew that they could create history on Thursday night in Game 5 of the Stanley Cup finals as they had a 3-1 lead over the Las Vegas Golden Knights and a win would allow them to win their first NHL title in franchise history.
The Capitals made sure that there were no hiccups in Game 5 and sealed the deal on Thursday night with a 4-3 victory over the Las Vegas Golden Knights. This is the first time in 44 years of playing in the NHL that the Capitals have managed to win the Stanley Cup. Fans In Washington DC burst out in celebrations as they have not had a lot to cheer about in terms of sporting victories as their last major triumph was back in 1991 when the Washington Redskins won the Super Bowl.
Alex Ovechkin, the captain of the Washington Capitals has spent 13 seasons with the Capitals and this one has been his most rewarding to say the least.
In a statement, Ovechkin said
We did it. That's all that matters. Look at the smiles on my teammates. This is
something you'll never forget. This moment, I'll remember for the rest of my life. I'm so happy. It's unbelievable.
Ovechkin is a veteran in the NHL and led from the front throughout the season. He scored 15 goals in the post season and also put one at the back of the net in Game 5. His efforts were recognized after NHL Commissioner Gary Bettman announced that Ovechkin had been named the MVP and will receive the "Conn Smythe Trophy".
He will be the first to admit that it was a team effort that made it possible for the Capitals to create history. In Game 5, David Perron, Devante Smith-Pelly and Lars Eller scored along with Ovechkin while Braden Holtby has done a great job as goalie.
CBS This Morning
Golden Knights Have A Great Run In 2018
The Golden Knights created history of their own as they succeeded in getting to the Stanley Cup finals in their very first season of the NHL. They won the first game of the Stanley Cup finals but fizzed out in the next four games as the Capitals played better under pressure and made the most of their opportunities.
However, the Golden Knights can hold their heads up high as they have been phenomenal and have won thousands of fans across the country.