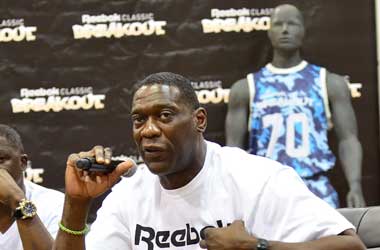 Summary
Former NBA Star Shawn Kemp was arrested in Washington
Initial reports claimed Kemp was arrested due to a drive-by shooting
Kemp's lawyers secured his release and refute drive-by shooting claims
Former NBA Star Shawn Kemp has found himself in trouble after he was arrested in Tacoma, Washington on an alleged drive-by shooting charge.
Young NBA fans may not be familiar with Shawn Kemp because he retired back in 2003.
Shawn Kemp Arrested Over Alleged Drive-By Shooting
Kemp started out in the NBA in 1989 and played 14 seasons with a number of top NBA teams including the Portland Trail Blazers, Cleveland Cavaliers and Orlando Magic. His longest stint was with the Seattle SuperSonics which was his very first team and he spent 8 seasons with them.
He was considered one of the most athletic and physically fit players during his time and was part of 6 NBA All-Star Teams. Since retiring from the NBA, Kemp has engaged in a number of business ventures and has also campaigned to get the NBA back to Seattle, Washington after the SuperSonics switched base to Oklahoma City.
News media initially reported a drive by-shooting at 4500 block of S. Steele St, which is close to the Tacoma Wall. The Pierce County Corrections Booking website stated that Kemp was arrested in connection with this drive-by shooting while the Tacoma Police Department released a tweet and said an unnamed male aged 53 was arrested in connection to the shooting and investigations were on-going.
Shawn Kemp Released As Lawyers Claim Self-Defense
Scott Boatman, legal representative for Shawn Kemp released a statement to provide more clarify over what exactly happened.
In a statement, Boatman said
There was not a drive by shooting as previously reported and Mr. Kemp's actions were reasonable and legally justified. Mr. Kemp met with law enforcement at the scene in an attempt to assist in the matter.
Boatman said that Kemp's car was stolen along with multiple items including an iPhone. Kemp traced his iPhone to the 'said parking lot' in an attempt to get his property back. When the occupants of the car saw him coming, they opened fire and Kemp returned fire in self-defense. No one was hurt in the process!
Kemp has had previous trouble with the law but that was back in 2006 when he was arrested in Houston for marijuana possession on a misdemeanor and again in Washington in 2006 after being found with a semi-automatic pistol and drug possession.