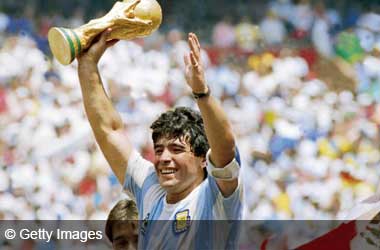 The football world will continue to debate whether Cristiano Ronaldo or Lionel Messi is the best player of this generation.
Very few in the football world will debate as to who was the best football player that ever lived for that title goes to Diego Armando Maradona.
Football fans around the world mourn the loss of Diego Maradona who passed away on Nov 25 due to a heart attack. Maradona passed away at his home at the age of 60.
Maradona was born in the slums of Buenos Aires. His life changed at the age of 3 when he was given a football as a birthday gift. He was short in stature but there was no limiting his talent when he played the beautiful game.
He became Argentina's favorite son and went on to lead Argentina to a FIFA World Cup win in 1986.
BBC News
Maradona became a household name across the world and a cult like figure in Argentina. The saying goes 'Maradona is Argentina and Argentina is Maradona' because people could relate to his humble beginnings and his rise to fame and fortune. He ended up playing 91 games for Argentina and scored 34 goals.
He played for a number of clubs including his favorite Boca Juniors in Argentina, Barcelona in Spain and Napoli in Italy. He played 490 club games and scored 259 goals. He was the highest paid footballer in the world during his peak. He won the FIFA's Player of the Century in December, 2000 alongside Pele.
Addictions Ruin Maradona's Life
When Maradona retired from football, his life fell apart quickly. He was unable to balance the fame and fortune and let it get the better of him. Maradona had a major drug problem and admitted that he will always be a drug addict. His struggles with cocaine made the headlines on numerous occasions but he was never able to kick the habit for good.
He also suffered with other addictions including drinking and over eating. There was a point in his life when he was so overweight that many fans did not recognize him. Maradona suffered a heart attack in 2004 and had to have gastric bypass surgery in 2005. Two years later, he was back in the hospital due to overeating, drinking and smoking.
Maradona underwent a brain surgery in November 2020 to remove a blood clot. His heart failed him later in the month and the final curtain came down.