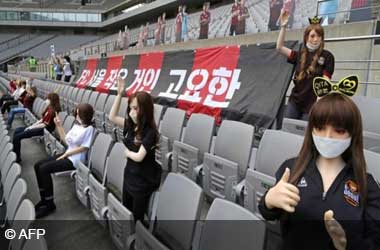 A South Korean professional football team found itself embroiled in controversy after a strange plan went wrong and made international headlines. The team decided to fill their stadium with what they thought were mannequins but was later determined to be sex dolls.
The K-League team FC Seoul, which used the dolls to substitute for fans stated that the mishap was due to a misunderstanding with their supplier. Around 10 dolls were spotted in photographs sitting or standing, which were placed in front of cutouts of the club's players. Whether this was a genuine mishap or a planned advertising stunt – one can only speculate.
The K-League is the first major football league to re-open since the COVID-19 pandemic brought sports to a standstill. The season's opening game proved popular among fans worldwide, who have had to make do with no live football in months.
NESN
In FC Seoul's match against Gwangju FC, a number of eagle-eyed social media users pointed out that it was sex dolls populating the stands, and not mannequins. Some stated that some of the dolls were holding posters with the name of a prominent Korean personality who may have been the model for the dolls' appearance.
FC Seoul claimed it was a misunderstanding, adding that their supplier assured them that the dolls were decorative and not meant for sexual purposes. FC Seoul apologized to their fans in an Instagram post, where they expressed their deepest apologies.
FC Seoul to Take Extra Care in the Future
According to the club, their decision to put some dolls on the stands was done to add to the live viewers' experience—the dolls were meant to emulate real life fans spectating from the stands, in an effort to reduce the awkwardness or eeriness of watching professional football teams play in an empty stadium. FC Seoul, the winners of the 2016 K-League, has promised that it will take extra care in the future to prevent any other debacles.
A number of social media users registered their disbelief at the explanation offered by the club. One social media user said that there were countless people involved in the entire process, and questioned why no one spoke out against the visuals of the dolls.
Korean fans are worried that, with the surge in K-League viewers worldwide, the FC Seoul episode will become an international disgrace, instead of placing Korean football firmly forward on the global stage.