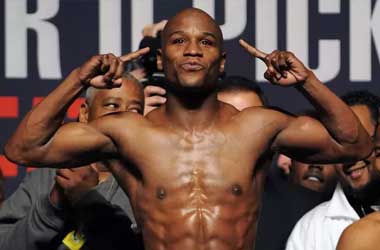 Floyd Mayweather will go down in history as arguably the greatest boxer of all time with a perfect 50-0 record. 'Money' Mayweather fought UFC and Mixed Martial Arts (MMA) star Conor McGregor in August 2017 and won convincingly, earning more than $100 million in the process. McGregor challenged Mayweather prior to the fight to step into the UFC's Octagon and get into a real fight.
Mayweather caused a huge stir when he posted a video of himself entering the Octagon, wearing a Paddy Power shorts and saying 'What are the Odds'. The video caused a huge reaction on social media as many speculated the Floyd was going to take up McGregor's offer to get in the Octagon and fight a real fight.
Mayweather also created more buzz when he said that he would be willing to have 2 or 3 fights in the UFC, if they were willing to pay him a billion dollars. UFC President Dana White stirred the pot by claiming that negotiations were on with Floyd Mayweather. Now Floyd Mayweather Sr has gone on record to claim that he believes his son is going to fight in the UFC but said that he would not be very happy with the decision.
In a statement, Floyd Mayweather Sr said
I'm gonna tell you the truth about it: I think he can win a few fights but I think it's best to leave it alone. You can do your own thing but you're in somebody else's playground now, and holes and stuff are in there. You just can't do that. Don't get me wrong, I believe he can beat some fighters the same as he did with the other guy but it isn't worth it. Anytime you've done what he's done, there ain't no other way he can go right now but backwards.
Joe Rogan, the color commentator for the UFC recently called for a Floyd Mayweather vs. CM Punk match in the Octagon on his popular JRE podcast. CM Punk is a former WWE wrestler who fought just once in the UFC and lost in the first round to Mickey Gall. The match-up would make sense as Punk is not a professional UFC fighter and it gives Mayweather a much better chance of competing and doing well than fighting Conor McGregor in his first match in the Octagon.
JRE Clips
While many believe that Floyd is just making noise, the massive revenue that a UFC fight could generate for 'Money' Mayweather could sway him to step into the Octagon and set new pay-per- view records.