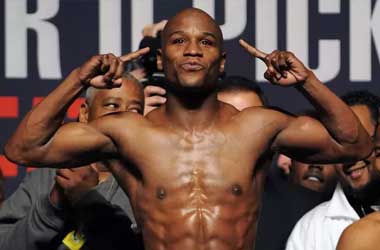 Floyd Mayweather admits that he is serious about stepping into the Octagon and competing in the Ultimate Fighting Championship (UFC) if presented with the right numbers.
'Money' Mayweather is confident that this will not be a concern as he has proven time and again that he can set record pay-per-views albeit in boxing.
Mayweather has talked to UFC Welterweight champion Tyron Woodley about training him in MMA. Woodley who does a show for TMZ admitted last week that he thinks Mayweather could be ready in three months but Mayweather does not want to rush things and says he probably needs 6-8 months to be fully prepared. MMA requires fighters to use multiple martial arts in the Octagon and the top MMA fighters have usually put in over 10 years in training.
TMZSports
Mayweather dedicated his whole life to boxing and is no doubt a master when it comes to throwing punches and evading them. However, he has little to no experience in kicking, wrestling, jiu jitsu, ground and pound and in the clinch. Mayweather thinks different as he believes his MMA skillset is very good and needs just a few tweaks.
In a statement, Mayweather said
I can wrestle. My wrestling game is not that bad. On a scale from one to 10, I would say it's probably a seven. We can take it up to a nine, if possible. Of course my hand game, on a scale of one to 10, it's 100. The kicking game, on a scale from one to 10, it's probably a four. We have to tweak a few things to take things to the next level
MMA Fans Troll Mayweather For Ridiculous Ratings
Floyd Mayweather's rating of his MMA skills caused a flurry on Twitter as die-hard MMA fans ridiculed his skill-level rating. One tweet said that Floyd might be the greatest promoter of them all after rating his wrestling at 7 and his kicks at 4. The question is which fighter is Mayweather measuring himself against and rating his MMA skills. If Edson Barboza is the standard for kicking, can Mayweather really be a 4? If Khabib Nurmagomedov is the standard for wrestling, can Mayweather really be a 7? The answer ofcourse is a big NO!
Mayweather is too intelligent not to know this but it appears that he wants yet another big payday but this time it looks like it is going to be in the Octagon!