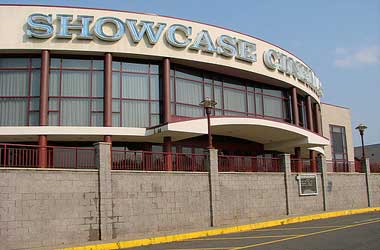 One of the two shortlisted locales for setting up the third tribal casino in Connecticut has accepted the agreement proposed by the developer MMCT Venture. East Windsor's Board of Selectmen voted 4 to 0 to approve the presented plan which will allow the construction of the casino in a vacant site within the town.
MMCT Venture comprises of the Mashantucket Pequot and Mohegan tribes who separately operate two casinos in the state and are proposing to build a third one jointly in order to counter competition from the upcoming $950 million MGM Grand project across state lines. The developer has stated that the decision on the casino site will be announced shortly.
The other city in contention is Windsor Locks which is yet to clear the proposal.
The city needs to hold a town-wide referendum before it can agree to the terms. According to the proposal submitted to the community of East Windsor, the new gaming facility will replace the old Showcase Cinemas (shown above) a 200,000 square foot property with over 100,000 square feet dedicated to gaming. Other amenities like shops, restaurants, and entertainment venues are also proposed. The gaming floor is expected to hold nearly 2,000 slot machines and 50 – 150 gaming tables.
WTNH News8
The agreement provides the city with an upfront payment of $3,000,000 and an annual payout of $3,000,000. The city's residents have broadly supported the plan as demonstrated by the backing seen during community meetings held to discuss the plan. The tribal developer and the city have together hosted two community meetings to address concerns of the residents.
In a statement John Simonelli an East Windsor resident said
I think the town needs the revenue. We haven't been able to do anything for ten years, the school systems have taken a hit, services have been cut in town
The project will create 1,700 jobs in construction and 1,700 casino jobs. About 75 percent of these casino jobs would offer full time employment. City residents have expressed concern at one of the hiring terms which calls for the local workforce to be just 4 percent.
According to MMCT, the new casino is likely to create thousands of both indirect and direct jobs in the region. The tribes have also stated that it will yield tax revenue of nearly $80 million per year to the state and in the range of $4.5 million and $6 million to East Windsor.
MMCT has been evaluating sites for the casino for months now having held two rounds of bidding before shortlisting these two locations.