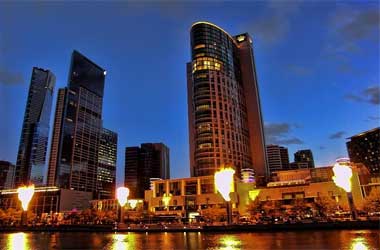 Crown Resorts, the biggest casino operator in Australia has been hit with multiple allegations and lawsuits covering a number of issues such as money laundering, pokie machine tampering, promoting illegal gambling in China and the latest allegation is racial discrimination.
The racial discrimination allegations come from NBA player Ben Simmons who said that he and his group of friends were allegedly barred from entering Melbourne's Crown Casino due to racial profiling.
The Philadelphia 76ers point guard and posted a video on Instagram (now deleted) where he highlighted his experience of being denied entry into the establishment.
The Aussie professional basketball player alluded that he and his group of black friends were required to present identification to enter the casino, whereas his lone white companion was not subjected to the same treatment.
Nine News Australia
Simmons also Tweeted on August 6 that he felt singled out after the incident and expressed that he intends to use his platform to speak up about equality.
As you know an incident happened last night at Crown and my friends and I felt personally singled out, no one likes to feel like this. I am very passionate about equality and I will always speak up even if it means having uncomfortable conversations.

— Ben Simmons (@BenSimmons25) August 6, 2019
Crown Resorts Denies Racial Profiling
Crown Resorts vehemently denied the racial profiling accusation, saying it strenuously rejects Simmons' discrimination allegations. The casino operator asserted that identification checks are routinely carried out to guarantee that its patrons are of legal age. Melbourne's Crown Casino said Simmons' posse was eventually allowed entry after providing identification.
Simmons who was born in Melbourne, Australia is a US-Australian citizen. He is now considered the highest-paid Aussie athlete after renewing his commitment to the 76ers last month with a US$170-million five-year contract. The forward was set to play for the Australian national team in the upcoming 2019 FIBA World Cup this late August, but backed out in July.
Ben Simmons is reportedly in Melbourne ahead of a two-match series between the Australian Boomers and Team USA, ahead of the Basketball World Cup in China starting August 31.
Crown Resorts Hounded By Bad Publicity
Crown Resorts shares plummeted 3 percent earlier this week to drop to A$11.70. The listed company's shares have dropped more than a dollar since allegations of money laundering in its VIP gambling business have come to light. Crown Resorts continue to grab headlines for all the wrong reasons.
A few weeks earlier, federal investigators accused Crown Resorts of allowing drug traffickers to funnel their suspected crime proceeds through two investment companies owned by the Australian gambling operator. Authorities have traced back a money-laundering scheme to Southbank Investments and Riverbank Investments, two companies set up by Crown and overseen by its executives.