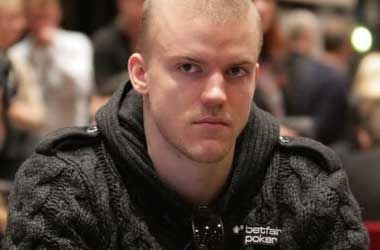 A Danish poker player will spend two years and six months in jail after being found guilty of committing fraud, a crime he carried out over the course of six years from 2008 to 2014.
The convicted player has remained unnamed in local media due to a name ban, but has been identified in other news outlets as 37-year-old Peter Jepsen (pictured), who is well-known in the online poker community for winning a record-breaking pot against popular high-stakes player Tom Dwan back in 2008.
The long term investigation found that Jepsen was involved in a cheating scheme, defrauding players of their hard-earned money. The Danish player carried out the crime with the aid of a number of accomplices, three of whom testified that they were part of the team that installed Trojan horses into other players' computers.
Jepsen's unscrupulous act came to the fore in 2014 when a group of Danish high-stakes online cash game players reported an alleged fraudulent activity, involving the installation of malware on their computers, which allowed the culprit to have access to his victim's hole cards while playing.
EPT Hit With Fraud
Danish authorities then carried out a thorough investigation into the allegations. The complainants had accused an unnamed person of carrying out the crime during major events, particularly the European Poker Tour (EPT).
During the 2013 EPT in Barcelona, several players reported that their laptops had been tampered while they were out of their hotel rooms. During that time the complaints were flooding the popular Two Plus Two forum.
The incidents also came to the attention of online poker executive Lee Jones, who was still connected with PokerStars when the alleged fraud took place. Jones advised players via the Two Plus Two site to clean their machines and reinstall everything before competing online.
Jason Koon was also one of the victims of the online cheating scheme. The American poker pro experienced a similar incident while taking part in the tour's Deauville stop. He lost massive sums playing heads-up games online and it is quite possible that a malware installed on his computer could be the main reason for his losses.
This shocking development could put an end to Jepsen's "successful" online poker career, as his name will now be forever linked to cheating. Apart from the prison sentence, Jepsen has also been slapped with a huge €3.5 million fine, of which €107,000 will be returned to one of his victims. According to reports, Jepsen is now considering an appeal to overturn the verdict.