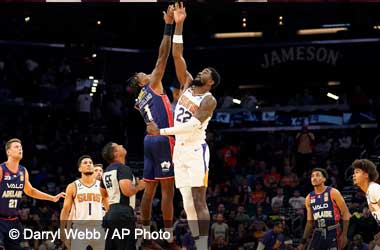 Summary
The 36ers from the NBL defeated the Suns during the NBA team's preseason opener
The Australian team scored multiple 3-pointers leading to their 134-124 win
The 36ers is part of Australia's National Basketball League (NBL)
It may just be an exhibition game but the Adelaide 36ers of Australia's National Basketball League (NBL) made a statement and put themselves on the map after defeating the Phoenix Suns 134-124 during the latter's preseason opener at the Footprint Center.
Adelaide 36ers Rain Threes to Beat Suns
What was initially anticipated to be an effortless, warm-up game for the Suns ended in a shocking defeat for the home team, as Adelaide's 3-point shooters proved too tough to handle. The last time an NBA team lost to an outsider in a preseason game was six years ago when the Oklahoma City Thunders fell to Real Madrid 142-137 during the 2016 NBA Global Games.
The 36ers employed an intense 3-point assault against the Suns throughout the match, shooting 24-of-43 from the 3-point range. The Australian team was led by Craig Randall who contributed a total of 35 points, 27 of that came from long distance. Robert Franks added 32 points, connecting with 6-of-10 from a 3-point range.
Cameron Payne scored the most points for the Suns with 23 points. Deandre Ayton and Mikal Bridges each scored 22 points, while Devin Booker added 13 points – but that wasn't enough to outpace the 36ers who managed to establish a 16-point lead early in the game by raining threes. The Suns were able to narrow the gap in the second half but Randall added 24 points during the 3rd and 4th quarters to lead his team to victory.
Suns coach Monty Williams admitted they didn't see that coming. When the 36ers scored a few threes during the first quarter, it didn't cross their minds that the Australian team would go on shooting from outside the arc. Williams acknowledged they have a lot to learn from the match as they gear up for the 2022-23 NBA season.
Victory for the NBL
Despite the loss, the Suns have nothing to prove though, having achieved the best regular-season record in the NBA in 2021 at 64-18. Their next preseason game will be against the Lakers on Wednesday, October 5 at the T-Mobile Arena in Las Vegas.
Meanwhile, the preseason win against the Suns was a massive victory for the 36ers and for the NBL itself – it was a testament to the significant growth and progress within the league which has now become a great training ground for those keen on entering the NBA. Somehow, the NBL continues to prove that it is indeed one of the best basketball leagues in the world outside the NBA.