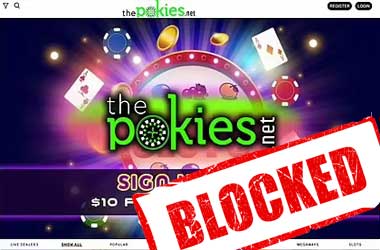 Summary
Australian watchdog targeted unlicensed iGaming operators
The ACMA recently targeted and blacklisted thepokies.net
Strong message sent to illegal iGaming operators down under
The Australian Communications and Media Authority's (ACMA) crusade against illegal gambling websites is gaining momentum with unlicensed iGaming site, thepokies.net being the latest addition to the Australian watchdog's list.
The regulator has cracked the whip on the website after receiving numerous complaints from Australian players.
Users Lost Money, Did Not Get Winnings
Several users reported losing vast amounts of money through thepokies.net. Users also alleged that their earnings were not delivered to them even after winning jackpots on the website. thepokies.net does business worth millions of dollars down under, attracting over 30,000 Australian visitors to play pokies on the platform every month.
The media regulator ordered internet service providers to ban the website to protect players. ACMA chairperson Nerida O'Loughlin confirmed that the regulator had taken note of the increasing complaints against thepokies.net. The website had attracted more negative reviews than any other illegal website in 2022. O'Loughlin criticized the website for harming Australians.
Online casino-style gambling games are illegal in Australia. thepokies.net was one of the most main websites targeted by the ACMA since 2019. The site offered a range of games, along with pub-style poker machine simulators and casinos. Games such as Gates of Olympus, Sweet Bonanza and Raptor Doublemax are some popular offerings on the website.
After getting the power to initiate action against such platforms, the regulator has instructed service providers to ban over 500 illegal websites, while 100 offshore operators have exited the market since 2017. Despite the $1.1 million fine, online casinos remain undaunted and still offer unlicensed services to Australians. Such sites also adopt different branding after vanishing for some time, thereby challenging the ACMA's actions to curb their rise.
Online Gambling Continues To Grow Down Under
The ACMA reported that the number of Aussies gambling online increased to 11 percent in 2021 from 8 percent in 2020. An Australian Gambling Research Centre (AGRC) report noted the rise of online gambling during the pandemic while they were in lockdown.
The study found that young men belonging to the age bracket between 18 and 34 were most likely to gamble online. The report also established that one in 20 people picked up online gambling in the first lockdown. Australians are reported to gamble $400 million per year on online gambling sites.