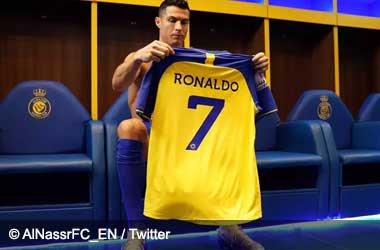 Summary
Al Nassr President says Ronaldo deserves to be highest paid player in the world
Ronaldo says he turned down many clubs in Europe, Australia and America
Saudi Arabia's soccer league will get global attention with Ronaldo signing
Cristiano Ronaldo made his appearance at Al Nassr's home stadium of Mrsool Park as thousands of fans showed up to welcome one of the greatest players in the world to their club.
Al Nassr has already started selling CR7 shirts in their team colours and fans were only too happy to wear them in support of Ronaldo.
Ronaldo Deserves To Be Highest Paid Footballer
There were reports during the 2022 FIFA World Cup in Qatar that Al Nassr had made a very lucrative offer to get Ronaldo to play for them. Ronaldo entered the World Cup as a free agent after Manchester United parted ways with him after his controversial interview with Piers Morgan.
Musalli Almuammar, President for Al Nassr did not disclose the exact terms of the 2.5 year contract they signed with Ronaldo. Rumours suggest that Ronaldo is getting paid close to $200 million per year, making him the highest paid footballer in the world. Almuammar did go on record to claim that it was only right for the best player in the world to be making the highest amount of money!
Some football pundits believe Ronaldo should have continued to play in Europe and not have made the move to Saudi Arabia as the soccer league in the country does not get enough global media coverage. Mrsool Park has a seating capacity of just 25,000 and this will deprive football fans from seeing Ronaldo finish out his illustrious career.
Ronaldo's Presence Will Bring Spotlight To SA Football
Ronaldo has a different view to what the pundits are saying. The 37 year old said that he had many offers from clubs in Europe, Australia, Brazil and America to play for them but he turned them down as he felt it was right at this stage in his career to move to Asia and bring the spotlight to football in Saudi Arabia.
Ronaldo said he achieved everything he needed to achieve playing football in Europe. His new goal was to portray a different vision of Saudi Arabia and football in Saudi. There are talks that Al Nassr is also looking to sign his former Real Madrid teammates and bring on Luka Modric and Sergio Ramos.