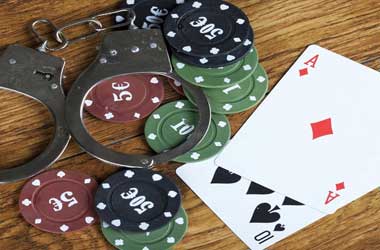 Yet another illegal casino operation was busted in India's capital Delhi, the second such incident in recent weeks. Police raided a flat in an elite locality in South Delhi, where a former model was said to be organizing illegal gaming activities.
The police have arrested the alleged owner as well as 14 gamblers found on location. Most of the players were said to be businessmen and property dealers belonging to local areas like Pitampura, Noida and Gurgaon.
Ten others who were helping in casino operations were additionally detained. During the raid police found a poker table, a bingo game, 2,700 gambling chips, 45 packets of playing cards along with several bottles of liquor. Police have seized Rs 8.5 lakh in cash and chips.
The accused said that she had been operating the casino for 10-15 days. She told the police that she and her son had moved into the flat a year ago. Police had planned a raid last week but had to put it off after receiving information that the club was closed. Several such busts have taken place in Delhi in recent times. Gambling is illegal across India except in three states of Goa, Sikkim and Daman. But the rising popularity of gambling in the country amid a strengthening economy has led to several illegal venues coming up to cater to high rollers.
In a recent case, a major high end gambling operation was busted in Delhi. Police raided a large farmhouse located in south Delhi's Fatehpur Beri after a tip off that an illegal casino-cum-bar was being run there. Delhi Police arrested nearly 30 people including the owner, four gamblers as well as five women employees. Thirteen vehicles were seized.
Deputy Commissioner of Police (South) Ishwar Singh said that gambling chips worth crores of rupees had been recovered from the site. According to media reports, four casino tables, along with gaming chips worth over Rs 30 million ($468,000) were found at the site. As per police reports, the illegal gambling den had been operating for the last two months in the farmhouse and gamblers had been informed of its operations via a closed WhatsApp group. The owner had rented out the property to three individuals who were running an illegal gambling operation.
The farmhouse had been put under surveillance for five days after police was alerted to the fact that illegal gambling activities were being carried out there. Senior authorities suspended five police personnel who were in charge of the particular zone due to negligence.