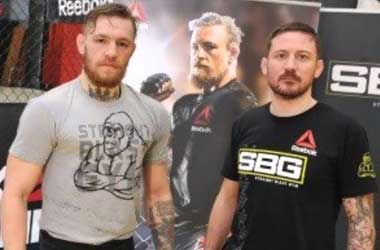 Conor McGregor has lost 2 out of his last 3 fights in the UFC but continues to be the biggest star in the UFC and in MMA. There will be a long line of MMA coaches who will be happy to work with the Irish Superstar but long-time coach John Kavanagh is not one of them.
Kavanagh has worked with McGregor for a long time and trained him before he became a superstar. The two have had their differences along the way but have patched things up and worked as a team.
Now Kavanagh is not so sure if he wants to continue to work with McGregor and has gone on record to state that he would only coach McGregor if he is convinced that the Notorious one has a meaningful fight before him.
In a statement, Kavanagh said
Well, he would certainly have to convince me to go again. Yeah, I love him. I love the whole journey we've had, but I'd need a good 'why.' It might be Diaz again because he promised that fight. It might be a rematch with Khabib. But if it was just: 'Well, they want me to fight that guy' I think I'd say, 'I wish you the best.'
MMA Analysts Think Conor Should Change Camps
It is interesting that Kavanagh has gone on record to state that he wasn't too keen on training Conor McGregor again. This is in light of the fact that a number of MMA analysts believe that it is time for McGregor to change fight camps so that he can take his game to the next level.
Kavanagh admitted that one of the mistakes that he made in the lead up to the Khabib Nurmagomedov fight was focusing too much on the defensive aspect and not being as offensive as they should have been. McGregor responded to those comments by saying he learned how important it was to trust and listen to himself than to just go by what others say.
Kavanagh has also said that he and McGregor are like chalk and cheese when it comes to their respective personalities. It might be better for both parties if they part and move on for now.
NAC Hearing Postponed To Jan 29
The Nevada Athletic Commission (NAC) hearing for McGregor and Nurmagomedov which was to take place on Dec 10 has been postponed to Jan 29. So McGregor isn't going to be fighting anytime soon or getting into fight camp.
McGregor is currently focused on his Proper 12 whiskey business as well as other business ventures.