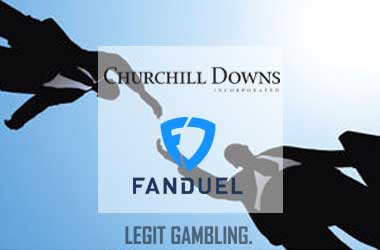 Summary
The multi-year deal covers several facets of the gambling business.
CDI-racing content can be broadcast via FanDuel television networks.
CDI will be able to further advance its pari-mutuel racing products with the deal.
Most of the time, when you hear about a partnership deal involving FanDuel, you think of sports betting. That's not the case with the latest matchup involving the brand.
FanDuel recently announced an agreement with Churchill Downs Incorporated (CDI) involving a multi-year deal where both will work together in several areas including betting and television.
Details of the Agreement
CDI is known for its gaming and horse racing products. The brand is now teaming up with FanDuel Group to focus on sports betting, advance deposit wagering, and television services. CDI will provide technology and service options to FanDuel customers so pari-mutuel bets can be played on horse racing. The wagers will be made via advance deposit wagering platforms and FanDuel.
Wagering will also take place via FanDuel involving horse racing content supplied by CDI in the US. In exchange, FanDuel will be allowed to broadcast racing content of CDI via the television and media rights section of the deal.
FanDuel CEO Amy Howe commented on the deal in a press release, stating that with FanDuel TV launching last week and premier racing content being added to the sportsbook, the company believes that it is an inflection point regarding their ability to provide customers with a seamless experience for wagering within a single wallet.
Looking Ahead to 2023
Starting early next year, FanDuel will provide compensation for technology and services offered via United Tote Company. The group will operate the pari-mutuel wagering across the US by FanDuel . This includes services within the FanDuel Sportsbook and TVG.
CDI announced previously this year that it plans to sell 49% of United Tote to New York Racing Association. The transaction should be completed by the end of this year.
CEO Howe stated that the company is pleased to offer betting on the Kentucky Derby. The company will have exclusive broadcasting rights to the family of tracks operated by Churchill Downs Incorporated on FanDuel TV. The group looks forward to building new audiences for horse racing via the broadcasts.
CDI will provide wagering rights to FanDuel so the content can be streamed, including the Kentucky Derby. The company will receive content fees as compensation when wagers are accepted by FanDuel connected to CDI owned content.
FanDuel will also have the TV rights for racing content of thoroughbred racetracks owned by CDI. This includes the Churchill Downs Racetrack and includes specific content like betting on the Kentucky Derby Week.