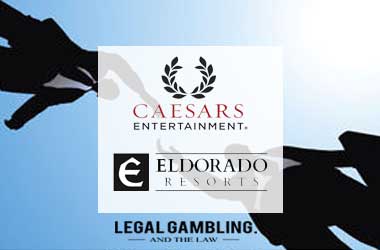 Caesars Entertainment has finally agreed to merge with Eldorado Resorts in a deal estimated to be around $17.3 billion that will create the world's biggest casino operator. The two companies had held discussions for weeks regarding a potential merger and those talks finally came to fruition this week but there is still a lot of work to be done before it is fully approved.
Eldorado has agreed to pay 0.0899 of its shares in return for 1 share of Caesars along with $8.40 per share in cash. The merger will be known as Caesars and the shares of the new combined entity will trade on Nasdaq. Eldorado shareholders will retain 51 percent of the company while Caesars shareholders will retain 49 percent of the company.
Whenever a merger results in the creation of a massive entity in the gaming industry, it always gains the attention of the regulator. This merger is expected to be completed in the first half of 2020 subject to the approval of gaming regulators in multiple jurisdictions as well as the Federal Trade Commission (FTC).
The new company will have its headquarters in Reno where Eldorado is based and will be led by Tom Reeg, CEO Eldorado and Gary Carano, Chairman Eldorado.
8 News NOW Las Vegas
Biggest Casino Operator In The World
Caesars faced bankruptcy in 2017 currently operates close to 40 casinos spread across 13 states and has a strong presence in Las Vegas with 9 resorts near the strip. Eldorado does not have a presence near the Las Vegas strip and the merger will change this. Eldorado Resorts owns 26 casinos in 12 different states.
Once the merger is completed, the new entity will operate more than 60 different resorts spread across 16 states. The merger is expected to save the new entity $500 million in expenses after the first year is completed. Eldorado is expected to sell some of its casino resorts in certain states as the company believes these properties could cause issues with the FTC.
The biggest casino operator in the world will be responsible for operating a total of 51,000 hotel rooms, 4,000 table games, 71,000 slot machines and more than 300 restaurants and beverage shops.
One of the biggest changes that one can expect as a result of this merger is that Caesars will most likely drop its plans of developing a casino resort in Japan.