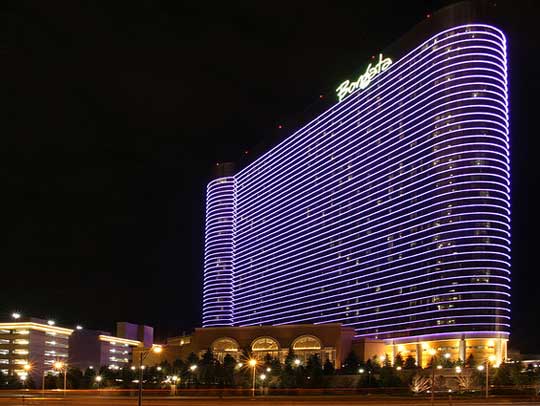 Atlantic City recently submitted a lengthy plan to New Jersey state regulators outlining its 5 year goals to revive its struggling economy and get out of debt.
The proposed plan includes a clause regarding a settlement of a tax dispute with the Borgata Hotel and Casino stating that the City will payback the Borgata $103 million owed in back taxes.
The Borgata is the largest tax payer in Atlantic City and is owned atleast $150 million by the City as it had overpaid property taxes due to inaccurate estimates by the city surveyor. The Borgata issued a statement refuting the fact that it accepted any such proposal from the city. Mayor Don Guardian responded to the denial with a statement that the deal would be approved once the New Jersey state administration greenlights the city's plan.
Atlantic City's financial revival plan which was presented by Mayor Guardian, Councilman Kaleen Shabazz and city council president Marty Small to state officials earlier this week, has a range of measures to restore the City's struggling economy which was rescued by a state-led bailout package earlier this year after it reached the brink of bankruptcy.
The proposal indicates that Atlantic City will pay the $103 million it owes to the Borgata within 90 days and will additionally guarantee $8.5 million as quarterly credit arising from property taxes. While the casino's management has denied the deal, one of the city's financial advisors Ed McManimon has said that assurances have been given by a senior executive at Boyd Gaming erstwhile joint owner of the property that the deal would go through.
Joe Corbo, general counsel of Borgata however released a statement saying that the casino was open to a compromise but none had been reached so far.
In a statement Corbo said,
Borgata has had an ongoing dialogue with City and State representatives this year in an attempt to reach a fair and equitable settlement. In those meetings we have repeatedly expressed our willingness to compromise the amount due to Borgata. Once the City submits its fiscal plan and reaches consensus with the State, we look forward to resuming our settlement negotiations and putting this matter behind us.
Mayor Guardian said that the plan was well received by state officials when it was presented. A spokesperson of the Department of Community Affairs which is in charge of approving the plan has said that it is under review. The state has five days to approve the plan. The major measures proposed under the plan include no tax raises, reduced state aid, increased access to bond markets, and cutbacks in costs related to city workers. The plan has projected balanced budgets for the city up till 2021.