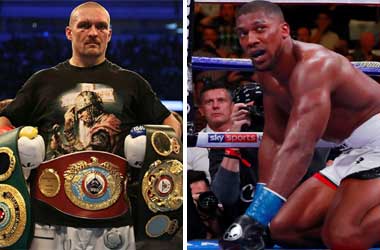 Summary
Joshua vs. Usyk 2 might be further delayed
Usyk is currently on the frontlines fighting for Ukraine
Eddie Hearn confident fight will take place soon
Brit Anthony Joshua ended up losing his WBA, IBF and WBO world heavyweight titles to Ukrainian Oleksandr Usyk in Sep 2021. This was a shock defeat for Joshua who immediately called for a rematch as per their contract.
The rematch was set to take place in early 2022 but that did not materialize as Russia and Ukraine went to war and Usky decided to fight for his country instead of fighting Joshua.
Joshua vs. Usyk 2 was initially expected to take place in April, was then pushed to May and later to June. The reason for the delay was because Usky said the more important fight was fighting for his country and defending his people against the Russians. Usyk was unable to move forward with a proper training camp and hence Joshua's camp was very understanding and okay with rescheduling.
Eddie Hearn who promotes Anthony Joshua has now stated the fight will most likely be pushed to July. The contracts are not yet signed but Hearn says he thinks the fight will take place in Saudi Arabia on July 23. However, given the fact that Usyk is reported to have lost 22lbs of muscle during the last couple of months fighting for Ukraine, July 23 could be a little too early.
Hearn acknowledges this and said that they would be willing to push back the July 23 date but a couple of weeks, which means this fight will likely take place in August 2022. Since the warn between Russia and Ukraine continues as peace talks have failed, it is quite possible that Usyk continues to fight for Ukraine and this fight gets pushed back even further.
Only One Big Fight Left For Joshua
If the fight does take place and Joshua wins, there is only one big fight left for him now that Tyson Fury has retired. Joshua will need to fight Deontay Wilder who has been rather quiet on social media after losing to Tyson Fury.
There is no clear information as to whether Wilder wants to continue to fight and if he will be willing to fight Joshua next!