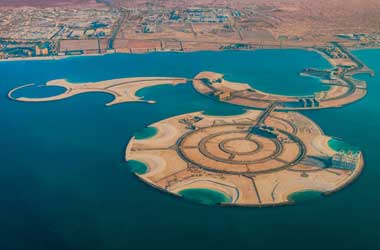 Summary
Wynn Resorts outlines plans for UAE project
Funds from Boston project will be used for greenfield project
Wynn Resorts reports strong liquidity
Craig Billings, the CEO of Wynn Resorts Ltd., announced on 16 February that the sale and lease back of Encore Boston Harbour in Massachusetts was driven by the "cost of capital" relative to other routes such as bond markets.
Wynn Resorts will use a part of the proceeds from the deal to fund the group's greenfield projects in the United Arab Emirates (UAE).
Wynn To Manage $2 Billion Property in UAE
As for the project in the Middle East, Billings confirmed analysts' speculation that Wynn would manage the $2 billion property on the artificial Al-Marjan Island in Ras Al Khaimah (RAK), UAE. The property would be funded on about a 50-50 debt-to-equity basis. Billings said that Wynn would probably have a share of about 25 to 40 percent, but it was unclear if the same proportion would hold for the equity and investment in the scheme. However, he affirmed that the business model would rest on a management contract.
Regarding the legislation aspect of the plan, Billings said that the process will be a multi-year one akin to other markets. He did not refer to any other relevant jurisdictions or the period for the greenfield development project in Ras Al Khaimah. The CEO claimed that the RAK already had a structure to allow the construction of a casino in the resort. According to Billings, the structure is based on the Las Vegas and Singaporean models.
Further, Billings announced that the UAE casino resort would be easily viable for 95% of the global population through an eight-hour flight. He acknowledged that the UAE scheme is the first transaction where Wynn Resorts was rewarded for its expertise through a management deal. Billings expressed his hope that the casino resort would usher in significant returns on investments.
Billings also said that besides funding the development plans in the UAE, some amount would be utilised for a project adjacent to the Boston Harbour. Encore Boston Harbour opened in 2019 and was facing challenges given inadequate parking space. The CEO said that the money would go towards building more parking spaces and non-gaming amenities to complement the venue and help it record higher performance.
Group's Liquidity Strong Due to $3.6 Billion Global Cash Availability
Vincent Zahn, senior vice president, and treasurer of Wynn Resorts affirmed that as of December 31, 2021, the company's liquidity is strong due to $3.6 billion global cash and revolver availability. Zahn said that circa $1.7 billion of the liquid assets were available for Wynn Macau's operations.