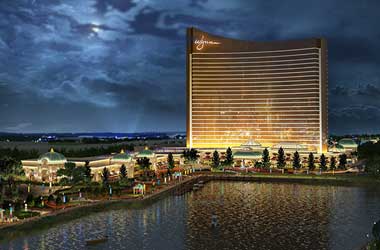 Matt Maddox, the CEO of Wynn Resorts Ltd recently reaffirmed his commitment to finishing the $2.5 billion casino that his company is building in Boston, Massachusetts. However, Wynn Resorts has faced an uphill battle in developing the casino and it appears that Wynn Resorts is considering the possibility of selling its Boston casino in order to reduce risks for Wynn Resorts.
The Steve Wynn sexual allegations fiasco not only hurt the billionaire casino developer but continues to pose problems for Wynn Resorts even though Steve Wynn has stepped down. Massachusetts regulators launched an investigation of their own and there is the threat that Wynn Resorts could end up losing its license if the investigation turns out poorly for Wynn Resorts.
If Massachusetts regulators end up revoking Wynn Resorts Boston casino's license, it could significantly hurt the company as it would pose concerns or Wynn Resort properties in Nevada and Macau. Wynn Resorts has also expressed its intention of entering the newly licensed Japanese casino market but the company's hopes of securing one of the two casino licenses in Japan is now at risk.
KSNV News 3 Las Vegas
Wynn Boston Could Be Sold To MGM Resorts
CEO Matt Maddox has confirmed that Wynn Resorts is considering selling its Boston casino as that would take the heat of the company if ownership changed hands. One potential buyer who has confirmed interest in the Wynn Boston casino is MGM Resorts. However a deal with MGM would add another layer of complexity to this gambling rollout.
Massachusetts approved the establishment of casinos in 2011, but there have been several times when those bidding for casinos have been disqualified. The state limits each operator to one casino and MGM is in the process of developing its own casino in Springfield. MGM Resorts has so far not released any official statement on pursuing a deal with Wynn Resorts.
In a statement, Debra DeShong, a spokeswoman for MGM, said
We remain fully committed to the opening and success of MGM Springfield. We do not comment on rumors or speculation around transactions
Earlier complications to the Boston license have added to the trouble. The original favorite for building a casino there was Caesars Entertainment Corp but it did not get the license because of its large debt. Las Vegas Sands, another major operator, didn't try to pursue a license at all.
One move that MGM could make is to sell its Springfield project to one of the two Indian tribes that already operate casinos in Connecticut. Foxwoods and Mohegan Sun are already planning a casino near Hartford, Connecticut that would cut into a Springfield casino's profits and potential customers.