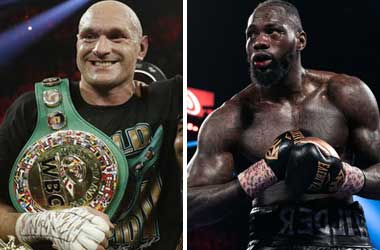 Deontay Wilder, the former heavyweight champion, has officially exercised his contract right to seek a rematch with Tyson Fury.
Bob Arum, chairman of Top Rank and Fury's co-promoter, has stated that the third fight is set to take place on July 18, at the MGM Grand Garden Arena in Las Vegas. This was the same venue where their last fight took place on Feb. 22,
Wilder and Fury have fought twice. The first fight was in December 2018 at Staples Center in Los Angeles which resulted in a controversial draw. When their respective camps agreed to a rematch, they included a clause in the contract that gives the loser of the rematch the right for a rematch.
Wilder was recently defeated by Fury, the lineal champion, who dominated him from start to finish. The fight was stopped in the 7th round after Wilder's corner threw in the towel.
According to Arum, the task of planning the fight will fall to Todd duBoef, Top Rank president, and Bruce Binkow of Premier Boxing Champions (PBC). Arum had initially been open to scheduling the third fight in the fall, but later announced that the fight will be held on July 18, and, like the first rematch, will be a joint pay-per-view between ESPN, broadcaster for Top Rank, and Fox, a broadcaster for PBC.
ESPN
Bob Arum said that July 18 was the best day for the fight because it is a dead time in sports. The NBA playoffs are over, baseball season will be somewhere in the middle and there is no football taking place. The main question though is whether Wilder vs. Fury 3 will generate as much interest as before. It will be easier to tell in the last two weeks leading up to the fight.
In the contract, the rematch had to be held in New York, Los Angeles, or Las Vegas, but Arum contended that Las Vegas was easily the best choice for the time of the year.
Fury Gets More Money In Third Fight
Arum was not surprised at all when asked of Wilder's quick decision to exercise his right to rematch Fury. According to Arum, Wilder and his camp can easily tweak their strategy to avenge their lopsided loss.
The 34-year old Wilder (42-2-2, 41 KOs), from Tuscaloosa, Alabama, took less than the 25 days he had to formally notify Top Rank and Fury (30-0-1, 21 KOs) of his choice. The previous rematch featured a 50-50 split, but will have a 60-40 split in favor of Fury since he won the fight.