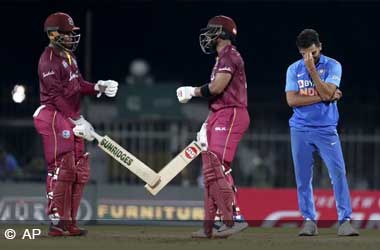 The West Indies have not had the great year in international cricket which has been plagued with more lows than highs. However, they do have the chance to put all that behind them and finish 2019 on a strong note.
The West Indies are in the middle of a 3 match ODI series against India and are 1-0 up after winning the first ODI in Chennai in convincing fashion. The Calypso Kings will desperately want to secure the series by winning the second ODI which takes place on December 18.
The West Indies have one of the most powerful batting line-ups on paper and that is a tribute to their bench strength, given the fact that some of their best players like Chris Gayle, Dwayne Bravo and Andre Russell are not playing.
The batsmen won the game for the West Indies in the first ODI as Shai Hope and Shimron Hetmyer (pictured) hit centuries to secure a win in the first game and put all the pressure on India.
Hindustan Times
There is no doubt that India is going to play some hard cricket in the second ODI as they men in blue know that this is a must win game in order to keep the series alive. The key for the West Indies is once again going to be their batting.
Their explosive batsmen have shown in the past that they struggle to be consistent as they like playing the big shots which often results in them throwing their wicket away. This time around, they have a new captain in the experienced Kieron Pollard who will be in their ear, reminding them of what's at stake.
It is not every day that a team gets to win an ODI series in India. The West Indies have the opportunity to do so and finish 2019 on a winning note!
Bowlers Must Take Early Wickets
One of the main reasons the West Indies did well in the first ODI was because their bowlers got the top three wickets cheaply. The West Indies got the three prized wickets of Rohit Sharma, Virat Kohli and KL Rahul for a combined total of less than 50 which ensured they would not chase a big total.
The West Indian bowlers will need to pick up these three big wickets early in the second ODI as it will immediately increase their chances of winning. As of now, India continues to be betting favourites with odds of 1.25 and the West Indies have odds of 3.5 to win and secure a series win.