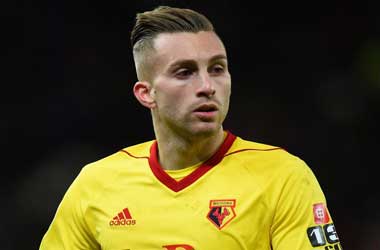 On Monday night, Watford defeated reigning champions Chelsea 4-1 at Vicarage Road in the Premier League. One of the stars of the show for the Hornets was mercurial loan star Gerard Deulofeu. The winger produced a goal and an assist on his Hornets debut.
The display showed just why a couple of years ago, the Spanish international was considered one of the most promising young players of his generation.
Struggled for first-team football
The story of Deulofeu is a story of unfilled potential. The 23-year-old is a graduate of the famed Barcelona academy La Masia. All his coaches at youth levels saw that Deulofeu was a special talent.
However, all his coaches had reservations about whether he would make the grade at Barcelona. Natural talent is not enough to become a regular in the Catalan giant's first team. Barcelona decided to give the winger some first-team experienced by loaning him out to Everton and then Sevilla. He showed flashes of his brilliance at both clubs, but never really nail down a regular spot in either team.
A permanent move to Everton followed, with the inevitable buy-back clause as part of the deal. Deulofeu once again showed flashes of his natural talent at Goodison Park but failed to gain a regular first-team spot. In January of 2016, then Everton boss Ronald Koeman decided to loan the winger out to AC Milan.
Once again, he showed sporadic displays of his ability in Milan. In the summer of 2017, Barcelona exercised their buy-back clause reported to be around £10.5million and he returned to Catalonia. The winger made some first-team starts at the start of the season. However, he wanted more regular first-team football, so Barcelona agreed to loan him out once again in January, this time to Watford.
Deulofeu needs to get the mental side right
Gerard Deulofeu is a fantastically gifted footballer. He is a natural athlete, quick and can take players on with the ball. The winger is the sort of player that gets fans off their seats. However, a constant theme throughout his career seems to be he cannot find consistency in his game.
Some of questioned his attitude, as at times he almost looks disinterested. While at Everton, fans and staff questioned Deulofeu's fitness levels, as he rarely played 90 minutes for the Toffees. Maybe it is the mental side of the game that is holding the winger back from becoming a top player. Something is stopping Deulofeu from fulfilling that undoubted potential.
Maybe he can fulfil his potential at Watford
There is no doubting Deulofeu's ability. However, he can be infuriating to watch as a fan. The winger will take on a player and fall over dramatically, only to complain about the incident instead of attempting to win the ball back. On his Watford debut, Deulofeu worked tirelessly and showed willingness, something that was only seen in short spells at his previous clubs.
The winger does have a tendency to start well at clubs and then fade, though, so let us not read into his debut performance too much. Hopefully, Deulofeu can find some form of consistency at Watford and help the Hornets claim a top-half finish, as it would be unfortunate to see such a naturally talented football not fulfil his potential in the near future.
Is Watford the place for Gerard Deulofeu to fulfil his potential?