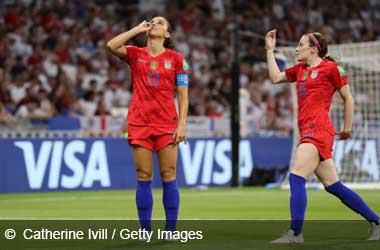 The US Women's National Team (USWNT) stole the show on Tuesday night as they silenced England 2-1 and booked themselves a place at this years World Cup finals.
The defending champions have played fantastic right throughout the tournament and will be confident that they can win back-to-back World Cups.
The second semi-final will take place between Sweden and the Netherlands on 03 July and the USWNT will have to wait and see who they will face in the finals which take place on Sunday.
England love their football and would have been relived when they learnt that star forward Megan Rapinoe was not going to play the semi-finals due to a strained hamstring.
However, England was immediately under pressure after Christen Press scored in the 10th minute and continued the USWNT habit of scoring early goals.
England fought back and levelled the score soon after to keep fans from both sides at the edge of their seats. The US pulled ahead in the 31st minute when Alex Morgan scored a fantastic goal and then celebrated in style by pretending to drink a cup of tea – the English way!
CBS Evening News
Morgan set the tournament on fire during the USWNT's opening game against Thailand when she scored 5 goals. Since then it has been a rather quiet tournament for her but she came to the party when her team needed her the most. She is now a contender for the top scorer at the World Cup and another goal in the final could help her win the Golden Boot award.
Fifth Final For The USWNT
This will be the fifth time that the USWNT will play in a World Cup final and they will be the favourites irrespective of whether they face Sweden or the Netherlands. Reports suggest that the team will be at full strength as Megan Rapinoe is expected to be fully fit and play in the final.
Alex Morgan said that the team had faced a lot of challenges and controversies throughout the tournament and had come out on top each and every time. The final hurdle is to win the finals and continue to keep their longest winning streak in World Cup history alive. The USWNT has currently won 16 consecutive World Cup games (2011 to 2019) surpassing Germany who had 15 consecutive wins from (2003 to 2011).