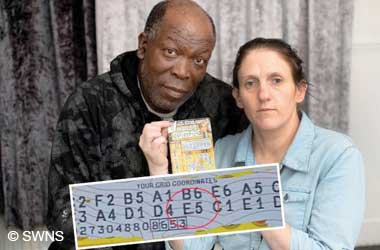 The UK National Lottery refused to pay the top prize of £200,000 to Eric Walker, an unemployed 56-year-old man, on grounds that he altered one of the co-ordinates of his scratch card.
However, the father of four claims that he has not made any alterations and swears that he is no cheat.
Walker says that he got three matching symbols when he scratched his scratch card and presented it as it was for verification.
The man purchased the National Lottery's Pharaoh's Fortune Scratch Card, which is available at the rate of £3-a-time.
Each scratch card has a set of 16 co-ordinates, on the basis of which players have to scratch off cards so that they can match symbols and win a prize.
According to Camelot, the organizer of the lottery, one of the co-ordinates on Walker's card was intentionally "altered." In an email to Walker, the customer care team of the National Lottery stated that they could not authorize the payout as the scratch card presented was not a winner since it appeared that co-ordinate E5 on the scratch card grid was indeed F5.
An image of the scratch card was posted online and it does appear that the co-ordinate in question is faulty. Walker, who hails from Sheffield, UK swears that he has not made any alterations and that it is the result of a misprint. According to him, he had won the scratch card fair and square.
Walker Not Giving Up Without A Fight
Walker, however, had refused to admit defeat. He claims that the prize will be life transforming for him and his partner Amanda Emmadi. Though unemployed, Walker is in the habit of purchasing six scratch cards every. His four kids are between the ages of 9 months to 3 years of age. Walker claims the National Lottery has cheated him of money that rightfully belongs to him and his family.
He denies the allegation made by the National Lottery claiming that he changed an F into an E. Walker is also of the opinion that a misprint, if any, is the fault of the National Lottery and that he has to be paid as he is not responsible for any mistakes on the part of the National Lottery.
While Camelot will continue to get flak for being reluctant to pay out winnings, it is understandable. Camelot received a £3 million fine back in 2016 when reports surfaced that the operator had paid out £2.5 million to a ticket that was damaged deliberately. The fine was imposed as Camelot did not have proper controls in place.