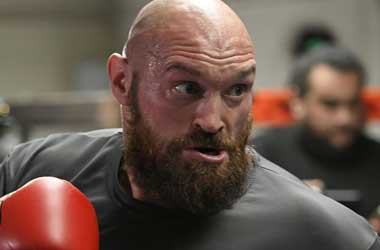 Tyson 'The Gypsy King' Fury is on a 'good' high in 2020. He not only put his substance abuse problems behind him but shed massive weight and made a remarkable comeback to the boxing ring and established himself as the 'baddest man on the planet' after defeating Deontay Wilder on Feb 22, 2020.
Tyson Fury has gained a huge fan following over the last 12 months as his two fights with Deontay Wilder has propelled him into the limelight. Those not familiar with the Gypsy King's background, will be surprised about these doping allegations.
However, these are not new allegations as Fury was first pulled up for a failed drug test back in 2015.
Fury and his cousin Hughie were both found to have the banned substance 'nandrolone' in their systems but the two denied taking nandrolone deliberately and claimed that it entered their system by taking contaminated supplements and consuming wild boar.
Their claims were supported at that time by Martin Carefoot, a farmer from Preston. He informed the UK Anti-Doping Agency (UKADA) that he had supplied the Fury camp with uncastrated wild boar which caused them to fail their drug tests. UKADA accepted that explaining and slapped a 2 year retroactive suspension on Tyson Fury and his cousin. By the time the suspension was handed out, Fury had already been out of the ring for two years.
Now Carefoot has stirred a hornets nest and got the tabloids interested as he has come forward and claimed that he was approached by a member of Fury's team and was offered £25,000 to lie and offer a false alibi to get Fury and Hughie off the hook.
UKADA To Launch Investigation
UKADA will now launch an investigation into these claims from Carefoot to find out if Fury's camp did influence Carefoot's statement. UKADA has asked the general public to come forward if they have any extra information on these allegations. If UKADA determines that Fury and Hughie are guilty, they could face charges of interfering and trying to influence an investigation.
Carefoot claims that he has never killed wild boar in his life but was willing to life for Team Fury because £25,000 was a lot of money. WBC President Mauricio Sulaiman has gone on record to state that he will not strip Tyson Fury of his belt as none of his current drug tests for recent boxing matches have failed!