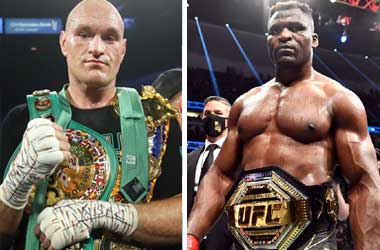 Summary
Tyson Fury asks Francis Ngannou to meet with him
Fury offers Ngannou biggest payday in his career
Ngannou not sure of his future in the UFC
UFC heavyweight champion Francis Ngannou successfully defended his belt against interim champ Ciryl Gane after a 5 round battle on Saturday night. UFC President Dana White is usually the one to wrap the title around the winner's waist after the fight but he did not step into the Octagon which further underlined the troubles that Ngannou and the UFC are having.
Ngannou has been very vocal over the fact that he feels the UFC has not treated him well and hence he hasn't resigned with the UFC. Ngannou is pushing for more money like a lot of UFC fighters but he also wants changes to be made to his contract as he feels it is too one-sided. The UFC at this point of time is not willing to budge which means that Ngannou could have fought his last fight in the UFC.
Ngannou was asked during his post-fight interview if he would consider stepping into the boxing ring if the UFC released him and Ngannou said that was something he would definitely consider before calling time on his career.
Tyson 'the Gypsy King' Fury took to social media to congratulate Ngannou on his win and also told him to come see the Gypsy King and make some real money.
Congratulations @francis_ngannou but if you want to make some real money come see the GK 💰

— TYSON FURY (@Tyson_Fury) January 23, 2022
Ngannou hasn't responded to Fury so far but it looks like a fight between Fury and Ngannou could be on the cards as both men are not too far away from calling it quits on their fighting career.
Ngannou was paid $600,000 for his championship fight not counting the money he would make from pay-per-view sales. The UFC heavyweight champion admitted that if he had to sign a new deal with the UFC, he would have made a lot more money. By not signing a new contract, he ended up leaving around $7 million on the table.
Ngannou Could Make Over $10 Million Easily
If Tyson Fury and Ngannou end up fighting in 2022 when they are both still big names in the sport, it could be a huge heavyweight fight that will bring in big pay per view numbers. Ngannou will likely walk away with nothing less than $10 million, more likely close to $20 million.
We will have to wait for the next few weeks to see if the UFC releases Ngannou or if they work out their differences and enter into a new contract.