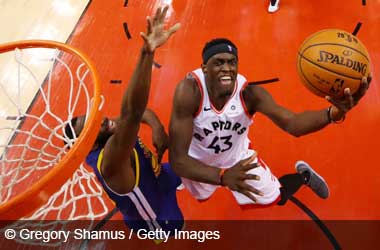 The Toronto Raptors knew that they had to win Game 1 of the NBA Championship Finals as it would put the Golden State Warriors under more pressure going into Game 2.
They did exactly that and pulled off a 118-109 win to take a 1-0 lead in the 7 game series.
The Raptors had to take advantage of the fact that the defending champions were playing without arguably their best player in Kevin Durant and also the fact that they were playing in Toronto and had the home advantage.
The Raptors started well and showed some great offense in the first quarter which saw them finish with a 25-21 scoreline.
The Warriors looked a bit sluggish in the second quarter and allowed the Raptors to get a 10 point lead as they finished the second quarter. Their star player Kawhi Leonard did not have the best night but Pascal Siakam stepped up and did amazingly well in hitting the 3 pointers. He finished the night as the top scorer for the Raptors with 32 points, 8 rebounds and 5 assists.
The Warriors did fight back in the third quarter but were never able to get the lead over the Raptors thanks to some great defense. Kawhi finished with 23 points, 8 rebounds and 5 assists and received good support from Marc Gasol who finished with 20 points, 7 rebounds and 1 assist.
House of Highlights
Stephen Curry Needs Better Support
The defending champions will be looking to bounce back from this defeat and play a lot better in Game 2 which takes place on Sunday night in Toronto. The Warriors will be under immense pressure as they play against a sold-out Scotiabank Arena whose full support is behind the Raptors.
Stephen Curry had a good game against the Raptors finishing with 34 points, 5 rebounds and 5 assists. However, his conversion rates on the 3 pointers need to be better in Game 2. DeMarcus Cousins made his return in Game 2 but looked sluggish and did not make much of an impact. S Livingston also had a poor game and it cost the Warriors in the end.
The Warriors clearly missed KD in Game 1 and the key question that Warrior fans want an answer to: is Kevin Durant going to play in Game 2? Durant was cleared to start practicing this week but is most likely going to miss Game 2. This makes it essential for the likes of Klay Thompson and Draymond Green to step up and help Steph Curry.