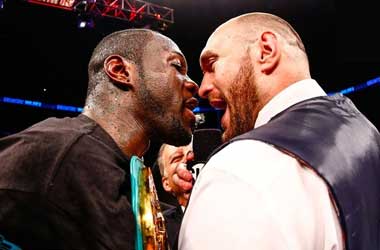 Deontay Wilder added another impressive knockout victory to his resume after he KO'd Dominic Breazeale in the first round on Saturday night.
Wilder caused a lot of controversy in the lead up to the fight as he made a number of statements threatening to delete Breazeale for good.
Wilder had said that a boxing ring was the only place where he could go out and legitimately kill someone and then get paid millions for doing it.
He received a lot of flak from the media and former boxers when he came out and said if Breazeale dies – then he dies.
Those who follow the America heavyweight's career know that Wilder likes to talk crazy in the lead up to his fights. However, boxing pundits did not like his crazy talk as they said it put boxing in a poor light and also gave young and aspiring boxers the wrong attitude when stepping into the ring.
Wilder proclaims himself as the baddest man on the planet and his impressive KO victory brought his record to 41 fights, 40 victories and 39 by knockout. The only fight that Wilder did not win was a fight against Brit Tyson Fury in late 2018 which was ruled a majority draw.
Tyson Fury Congratulates and Insults Wilder
Tyson 'The Gypsy King' Fury went on social media to send Wilder a message and congratulate him. While Fury had a lot of praise for Wilder's performance, it was insulting at the same time.
In a statement, Fury said
Anyone that stands in front of Deontay Wilder, he will knock 'em out. Deontay Wilder is the second baddest man on the planet behind The Gypsy King, AKA Tyson Fury, the number one heavyweight in the world. Nobody can beat me. I can't be touched.
The Gypsy King said that he predicted that Wilder would KO Dominic Breazeale and he wasn't surprised with the result. Fury also sent out a warning to Anthony Joshua and Dillian Whyte telling them that they will experience the same fate if they get in front of Deontay Wilder.
Boxing fans are eager to see a rematch take place between Tyson Fury and Deontay Wilder and are hopeful that it will take place before the end of 2019. Fellow Brit Anthony Joshua who holds 3 heavyweight belts is also keen on facing Wilder to prove who really is the baddest man on the planet!