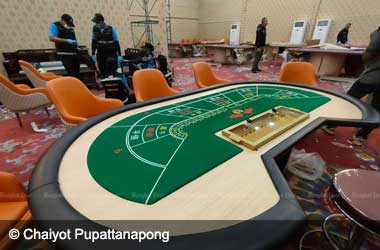 Summary
A Chinese national was running a huge illegal casino operation in Pattaya
Thai authorities raided the illegal casino but could only arrest the caretaker
Thailand is keen on legalizing 5 land based casinos in the near future
Gambling in Thailand is currently illegal but the Thai government is aware that there are a number of illegal gambling dens spread across the country that are running a lucrative operation.
Finding these gambling dens and shutting them down is not an easy matter since many of these temporary gambling dens operate out of small houses and shift locations on a regular basis not to be detected.
Thai Police Uncover Temporary Casino In Pattaya
Most of these undercover gambling dens are located in areas that are tucked away from busy tourist hotspots. Thai police received information that an illegal gambling operation was taking place right under their noses in the popular tourist hotspot of Nong Prue in Bang Lamung in Pattaya.
The authorities from Chon Buri police station got a search warrant issued by the Pattaya Provincial Court and hit Pattaya's Sai 3 Road to raid a building situated on the intersection of Chalermkiart 6. The authorities were surprised with the location as this wasn't some small gambling den tucked away from the public eye. This was a popular building that was based on a large plot of land that was home to a boxing stadium, a pork barbecue restaurant and a KTV outlet.
All of the businesses located on the plot of land were closed during the COVID-19 lockdown. The premises was now being used as a massive illegal casino that consisted of casino games such as 6 baccarat tables and other gambling equipment which included over 500 dice and 500 decks of cards. The temp casino also had two VIP rooms and a room for a cash-chip exchange.
The authorities were only able to arrest the caretaker of the establishment and later discovered that the plot of land was rented out in 2016 by a Chinese national known as "Ming". Thai police have not released any other information about the mysterious Ming who is now on the run.
Thailand Keen On Legalizing Gambling
The ruling Thai government is keen on legalizing gambling despite a 2021 survey saying the public was against it and is currently pushing forward with legislation that will allow 5 land based casinos to be legalized in the country. Pattaya is expected to be one of those 5 locations that will house a multi-million dollar land based casino.