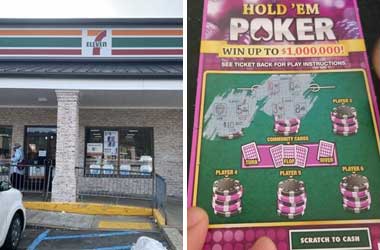 Summary
The defendant claimed more than $500K in lump-sum payout
She forged lottery documents and mislead the victim by saying he only won $20,000
She pleaded guilty to the crime and faces up to four years in prison
A woman in Texas is facing up to four years in jail after pleading guilty to stealing a lottery jackpot worth $1 million from her relative.
34-year-old Iris Amador Argueta was arrested in November 2021 and charged with one count of second-degree grand larceny for illegally claiming his cousin's New York State Lottery winnings in 2020.
Argueta, a resident of Houston, Texas, pleaded guilty to the charge before Nassau County Judge Howard Sturim on January 20, 2023, as per a press release from the Nassau County District Attorney's Office (NCDA).
Victim Told He Only Won $20K
Argueta posed as the owner of a $1 million winning lottery ticket and claimed the prize as a one-time lump sum amounting to more than $500,000. The Hold 'Em Poker scratch-off ticket belonged to her cousin who bought it at a 7-Eeleven convenience store in Glen Cove, New York on October 28, 2020.
Wishing to remain anonymous, Argueta's cousin requested her to claim the $1 million prize on his behalf. He promised to give Argueta $50,000 for her efforts and she agreed.
During that time, the New York State Gaming Commission was not allowing in-person transactions due to COVID-19. Lottery winners were instead required to mail their winning lottery tickets to the Commission which Argueta did.
Weeks later, Argueta went to her cousin's residence to give him his winnings. But she lied to him about the prize amount, saying her cousin only won $20,000. She brought with her some paperwork appearing to be from the New York State Lottery. The victim only received $13,436 in cash with Argueta telling him the rest of the money went to taxes.
The victim later found out through the New York State Lottery website that Argueta had claimed the $1 million prize as a one-time lump sum payout worth $537,440 after taxes. The victim then contacted Argueta but the latter refused to give his winnings back, saying she had no additional money. Argueta also allegedly threatened her cousin he would face legal consequences if he continued to contact her.
Jail Sentence for Defendant
A joint investigation by the NCDA and the Glen Cove Police Department confirmed the defendant indeed received $537,440 from the New York State Gaming Commission. In May 2022, Argueta forfeited $317,857 in winnings from her bank account which was returned to the victim.
Argueta's sentencing hearing is scheduled for March 15, 2023, where she is expected to be sentenced to up to four years in prison.